BLOG
Five useful accounting tips to grow your online store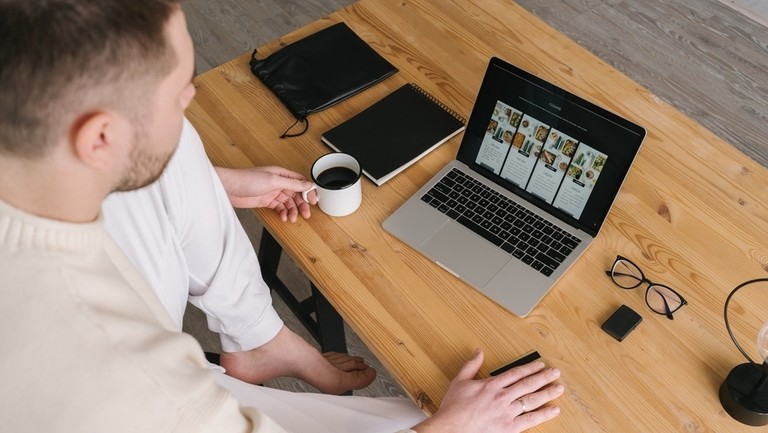 ---
Posted: Wed 25th Aug 2021
Running an e-commerce site is a busy job that involves a wide range of daily operations, from order fulfilment and customer service to advertising and accounting.
Although accounting tasks may not be the most exciting aspect of the work, they play a vital part in any profitable online business. An accurate accounting system for your e-commerce store can help you track your revenues and expenses, enabling you to make a plan for long-term growth.
Follow the five accounting tips in this article to take stock of the basics. Small changes to how your accounts are organised and how often you review cash flow statements can make big improvements in the management of your finances.
This post is sponsored by accounting experts Osome. Enterprise Nation community members can get one month off Osome's services on bookkeeping and accounting.
1. Identify your cash flows
When running an online store make sure you have a broad view of the current financial situation of your business. Keeping records of your expenses and revenue isn't enough. You need to know all the details to make sure that your business is in a healthy financial state.
If you don't have the full picture when it comes to your cash flows, you won't understand which parts of your business are profitable and you won't be able to set effective financial goals.
It's important to manage your accounts to find out your liquidity levels. This will also help you understand your payment cycle and make future growth strategies for your business. To get more accurate future business forecasts, make sure you generate and review the factual cash flow statements on a regular basis.
2. Consider your cost of goods sold (COGS)
Successful accounting considers the cost of goods sold (COGS). These are the major expenses of your business – an operational cost that a business bears to earn revenues.
To figure out your COGS, make sure you consider all your expenses, starting from getting raw materials to selling the final product.
It can be tempting to skip over costs like labour and rent as expenses, but it's important to understand all the elements that are involved in the COGS line item. Consider how to control them, how to reduce the costs and increase their profit margin. To do this, maintain a record of your fixed costs to accurately calculate your gross and net profit.
3. Keep separate bank accounts for personal and business finances
To run your online business smoothly, set up separate bank accounts for your personal and business finances to prevent any mix-up.
Keeping two separate accounts will differentiate between business revenues and tax liabilities from personal income and the resulting obligations. This is also beneficial if you seek funding from investors and creditors – properly maintained financial records will increase the chances of approval.
Pro Tip
Do your homework before opening a business account. Compare the fee structure of different banks, the range of benefits, unique features and the cost of maintaining the account.
4. Manage your inventory efficiently
Managing inventory is an important accounting task. Through accurate inventory management, you can track the stocked products of your online store and monitor their weight, quantity, dimensions and location.
If inventory management is done well, it helps to lower the cost of holding stock and indicates when it's time to stock up on more products or purchase the raw materials needed to produce them. It also helps to manage stock flow at busier times, such as holiday seasons, when customer demand is high.
Overstocking and understocking are two extreme sides of managing inventories, and they are both bad for a business. Ideal inventory management focuses on the turnover rate and maintains the right inventory accordingly.
Keeping your inventory up-to-date will help you avoid the challenges of having too much or not enough stock and enable your business to run more efficiently in the long run.
5. Maintain a bookkeeping system
A bookkeeping system maintains the records of daily business transactions, categorises them, and reconciles bank statements.
When you are looking to manage your business finances efficiently, having a bookkeeping system specifically for your business can make a lot of difference.
Maintain an effective bookkeeping system by considering these steps:
Use a software application or capture daily transactions in an Excel sheet

Outsource the bookkeeping task to a company that can maintain cloud-based bookkeeping

Hire a full-time bookkeeper or accountant for in-house bookkeeping
Pro Tip
Be clear about the difference between bookkeeping and accounting as they're easily confused. The main difference is that bookkeeping is about transactions and accounting goes into more financial detail and gives business insights. An accounting process looks at the data collected by the bookkeeper and reviews the progress of a business.
Why outsource your bookkeeping/accounting tasks?
As an e-commerce business owner, you need to focus on your core business areas. It can be challenging to manage bookkeeping and accounting work in-house and outsourcing can be an effective route to saving a lot of your time, effort and money.
Always work with an expert who is familiar with collecting documents from any platform and can consolidate reports for each SKU, product group and market. They should talk you through your revenue sources and expenses and create more effective financial strategies for the future of your business.
To understand more about how bookkeeping services could work for your business, check out Osome's UK accounting services here.
Enterprise Nation community members can get one month off Osome's services on bookkeeping and accounting.
Powered by caffeine, Melissa is most productive in sweatpants. When she's not putting pen to paper, she'd be busy dreaming about her next vacation. Melissa writes articles on compliance, accounting and taxes and news affecting small to medium businesses.