BLOG
How to feel confident going live on Facebook and Instagram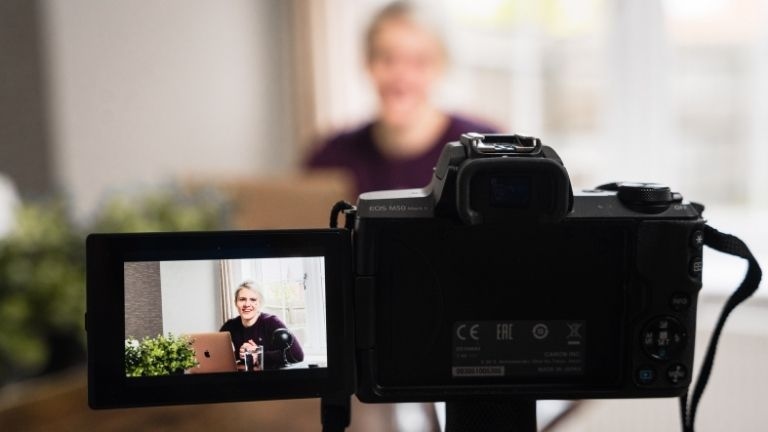 ---
Posted: Mon 20th Jun 2022
The #SheMeansBusiness programme, powered by Meta, is run by Enterprise Nation in the UK and Ireland and helps to support people when it comes to using Facebook, Instagram, Messenger and WhatsApp in a way that will help support their brand and grow their business.
In this blog, we'll be looking at Instagram and Facebook Live.
How do you go live?
Going live can feel terrifying, can't it? Your finger is hovering over the button, your heart is racing, and you might even be feeling a bit sick.
What if it goes horribly wrong and you're left feeling like an idiot? What if people laugh? What if no one turns up? What is EVERYONE turns up?!
We've all been there. Anyone who's ever gone live has had some or maybe even all of these feelings. But the good news is, those worries are easy to banish.
The first thing to do is to make sure you know how to go live because nothing gets stress levels up like not knowing what you're doing.
How to go live on Facebook on desktop
Navigate to the Page, Profile or Group you want to go live in.

Under the box where you'd usually write your status (the one that has the prompt 'What's on your mind?' or 'Write something'), you'll find a little red camera icon with 'Live video' – click that.

When you go to the 'producer screen', you can select where you want this Live to appear (useful if you decide you'd rather post on your Page, for example), and you can select the option to go live by yourself. You'll then be whisked to the final screen before you go live.

On the last screen, you can add the title and description for your Live, change your camera or microphone source, and then just click the big 'Go Live' button and you're done!

After you've pressed 'Go Live', you should start to get information relating to how many people are watching. If you get comments on your Live, they will display on the screen too for you to answer or comment on as you go.
How to go live on Facebook on mobile
Open your Facebook app and navigate to the place you want to go live.

Tap on the box you'd usually write your status in.

When the screen opens, underneath the box, you'll see lots of options such as video, photo and then you'll see the little red camera with 'Live video' next to it – tap that.

On this screen, you can add your description and then tap the blue 'Go Live' button at the bottom.
As with desktop, you'll start to get information on viewers and comments as people come and view your Live content.
How to go live on Instagram
Open the Instagram app and navigate to your home page.

Tap the + on the top right of the screen.

Select Live from the drop-down.

Here you can add a title and select your audience (great if you want to get to grips with things as you can pick 'Practice' and just go live to yourself). Press the big button at the bottom and you're away!
Comments will appear at the bottom of your screen and viewer numbers at the top.
So, now you know how to go live, I want to share some tips with you to make your Lives as successful as possible.
How to make your Lives successful on Instagram and Facebook
Tell people you're going live. Promote the fact you're going live as you're more likely to get people to come along and watch. You might think having people watch is scary, but when the right people come, it makes a Live a whole lot more enjoyable as you can interact in real-time.

Have a plan. Think about why you're going live (and make sure you've told people why too!). Are you revealing a new product? Talking about something close to your heart? Answering frequently asked questions? It'll help!

Notes. Now you have your plan, jot down a few bullet points you want to cover. You don't have to script your Live, but to make sure you cover everything you want to cover during your session, bullet points will help.

Check your wi-fi. Do everything you can to make sure your wi-fi is as good as it can be. Is anyone else in your house/office using it? Tell them to stop. Are you fairly close to it? If not, move closer!

Have water. It's always good to have water nearby in case you have a spontaneous coughing fit (I've been there) or your mouth goes dry.

Engage. When people join, say hello! Their names will appear at the bottom/side of the screen, so just say hi and thank them. If you want questions, ask people to use the comment box and let you know what they want you to answer.

Breathe. When we're nervous, we speak quickly and forget to inhale. Slow it down. Take a breath.

Give it time. When you go live, do it for a little while – at least 10–15 minutes if you want people to come and watch. Facebook and Instagram will tell people you're live, but you have to give them time to come along.

Enjoy it. Don't take it too seriously. Do your best. See it as a learning experience and roll with the punches.
Live content can be incredible when it comes to connecting with and learning from your audience. Give it a go – you won't regret it.
Relevant resources