MEMBER STORIES
Enterprise Nation members meet small business minister in Downing Street and call for certainty over Brexit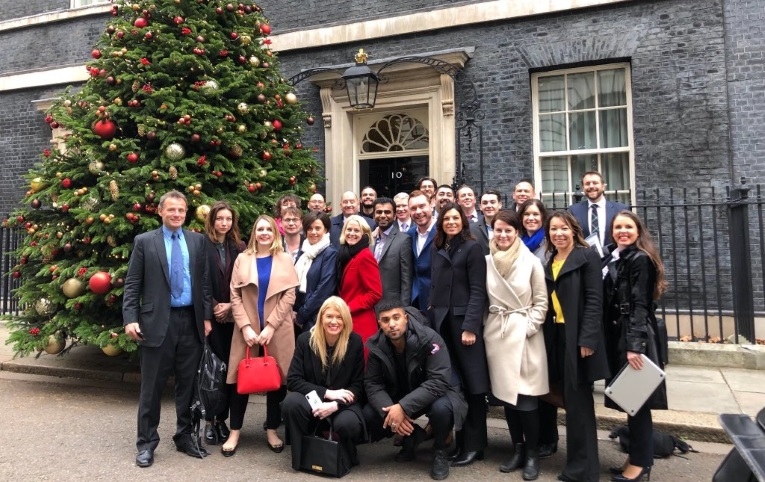 ---
Posted: Mon 10th Dec 2018
On a momentous day in Westminster, we took a group of business owners and Enterprise Nation members to meet small business minister Kelly Tolhurst, Jimmy McLoughlin, special adviser to the prime minister, and Theresa May's business envoy William Vereker at 10 Downing Street to discuss Brexit.
As the group settled down for the meeting, in a room not too far away the prime minister was on a conference call to her Cabinet after which the news broke that the vote on the Brexit deal by MPs was to to be delayed.
Discussing their key areas of concern, business owners in the room highlighted issues around people (non-UK nationals and staff from the EU working in the UK), customs and tariffs, export and imports, foreign exchange and fluctuation of currency, strength of the Pound and the future of EU funding.
The minister stressed that she ran her own business for a number of years before entering politics and so personally understood these concerns and the need for certainty in planning.
She emphasised that is why the prime minister negotiated the transition period in the Brext withdrawal agreement which she argued gives businesses more certainty and time to plan for any changes in the future, and so a deal would enable businesses to carry on trading until a future trade deal is negotiated.
She said that the Brexit deal does address the concerns that the small businesses expressed and encouraged entrepreneurs to express their views to their MPs.
On funding, Tolhurst said that the government would consult on the new UK Shared Prosperity Fund which is intended to replace some of the EU funding streams.
The small business owners emphasised that good communications are really important because they need to be able to understand how they are affected. A few attendees mentioned the importance of Brexit advice sources like Enterprise Nation's Brexit Advice Service.
Enterprise Nation founder Emma Jones reiterated our call for subsidised Brexit advice.
Tolhurst said ministers are working on a plan for disseminating information.
Messages around immigration policy were reiterated by the minister such as EU nationals being able to stay in the UK, the registration process will be quick and easy and there is work ongoing with the tech system. The UK wants talent form overseas and she is aware of business challenges of accessing labour, Tolhurst added.
In her closing remarks, the small business minister said she was committed to businesses which are crucial for the UK's prosperity
When decisions are taken, "you are at the forefront of our minds", Tolhurst concluded.
Attending the meeting was:
Emma Jones, Enterprise Nation

Justina Markeviciene, Enterprise Nation

Elizabeth Jones, On the Menu

Matthew Turner, Creative Pod

Jo Sealy, To Market

Stuart Gates, The Seasoned Grocer

Timothy Gentles, DrillBoard

Frances Sheekey, The Foraging Fox

Rebecca Yates, Rebecca Yates London

Dan Saxby, The Elephant Room

Alison Edward, Simply Balanced Solutions

Sal Essa, No Gunk

Rashik Vekaria, Litchfields Chartered Accountants

Ben Towers, 10 Plan

Louise Brogan, Social Bee NI

Jonathan Richards, DivInc

Tetiana Vynokurova, Superfood Bakery

Alexandria Hannon, Manga Jo Drinks

Katrina McWhinnie, The McWhinnie Consultancy

Ross Jones, Brand Farm Films

Gareth Austin-Jones, Cocorose London

Mark Neild, Agileering

Caroline Syson, Pocket PA

Stephen Moore, Flight Club Darts

William Johnson, Torro Cases

Ritchard Head, Ceratium

James McCloskey, LoveCorn

James Taylor, Roaring Mouse PR

Leanne Crowther, Flower and White

Suzanne Walker, The Primal Pantry
Brexit Advice Service
Access content, events, advice and more to help you plan for the challenges and opportunities of Brexit with Enterprise Nation's Brexit Advice Service.
Enterprise Nation has helped thousands of people start and grow their businesses. Led by founder, Emma Jones CBE, Enterprise Nation connects you to the resources and expertise to help you succeed.