ANNOUNCEMENTS
Empowering Journeys: Our new partnership with Uber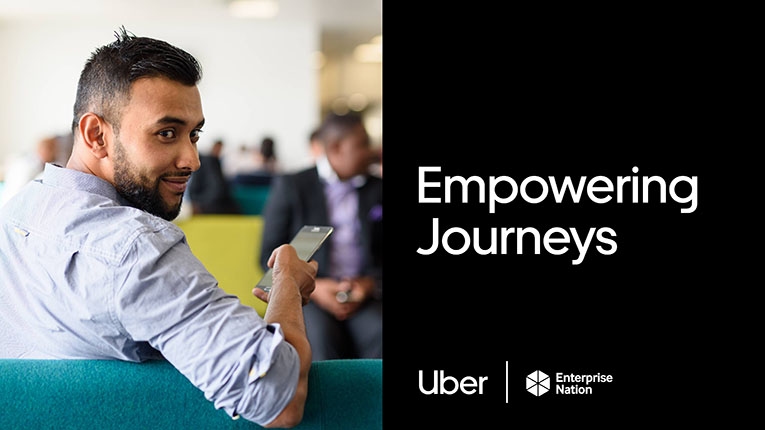 ---
Posted: Thu 26th Nov 2020
We're incredibly excited to announce the launch of a new partnership with Uber: Empowering Journeys.
Over the coming weeks and months, we'll be delivering three hugely exciting support programmes - one for drivers and couriers who use the Uber or Uber Eats apps, another for small businesses on Uber Eats, and another for aspiring food entrepreneurs.
Participants will receive an array of invaluable support, from specialist training sessions and start-up grants to access to commercial co-working kitchens. Everyone who takes part will also receive 12 months' free access to Enterprise Nation.
Introducing the programmes
Business Builder
One hundred drivers and couriers who use the Uber or Uber Eats apps will be given the training and funding they need to turn their business idea into a reality. After completing nine weekly training sessions and a graduation day, participants will receive a start-up grant of between £2,000 and £10,000.
Restaurant Hub
Restaurants on Uber Eats in the UK with fewer than five locations can access an exclusive e-learning programme to help them recover from the effects of the COVID-19 pandemic. From making sales to building a brand, the modules will allow restaurants to get back to business and grow, sustainably.
Food Fellowship
Eight food entrepreneurs will take their fledging food start-up (or merely their idea for one) to the next level via a six-week, hands-on educational programme overseen by food expert and start-up trainer Vhari Russell, of The Food Marketing Experts. Participants will receive one year's access to a workbench at Karma Kitchen in north-west London.
"We're excited to be offering this programme to drivers, couriers, restaurants and food entrepreneurs across the country," said Enterprise Nation founder Emma Jones. "Enterprise Nation firmly believes that up-and-coming entrepreneurs should be given every tool and resource to succeed - our partnership with Uber will help expand this opportunity to entrepreneurs across the UK."
Jamie Heywood, Uber's northern and eastern Europe regional manager, believes it's "more important than ever" to invest in British entrepreneurship. "We are proud to team up with Enterprise Nation and offer this programme to drivers, couriers and restaurants," he commented. "We know that many drivers and couriers who use the Uber app to earn have aspirations beyond Uber, and we want to help support them achieve their goals."
Small business minister Paul Scully MP has voiced his support for Empowering Journeys. "Initiatives like this, which support people running small businesses to branch out and innovate, are more important than ever at a time when many are struggling with the impacts of COVID-19," he said. "We want to make the UK the best place in the world to start and grow a business, and backing business owners, creators and doers regardless of their background is essential to that goal."
Business Builder opens for applications today. Applicants, who must have had an Uber or Uber Eats account in the UK for at least six months, meet the minimum rating criteria and have a business idea or start-up under one year old, must apply by 11 December. Graduation day will take place w/c 15 March 2021.
Small businesses on Uber Eats can apply to Restaurant Hub from today, with the e-learning programme set to commence in mid December. The modules will be delivered via a dedicated hub on Enterprise Nation.
Food entrepreneurs can apply to the Food Fellowship from today. Applicants must be based in the UK and have a business idea or start-up under two years old. All participants will be granted access to a shared workbench at Karma Kitchen in north-west London for one year.
I'm a content and communications strategist with a passion for brand storytelling. I also happen to be Enterprise Nation's content manager – so if there's anything you'd like to see more of, or you have a story to tell, please do connect!