BLOG
Emma Kennedy on the future of the office and working smart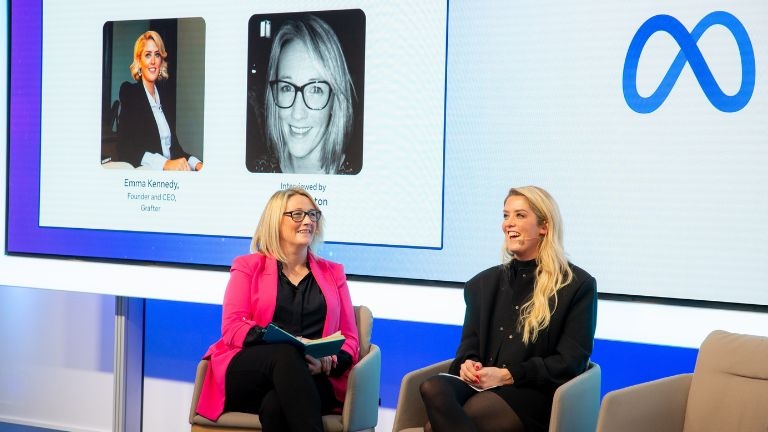 ---
Posted: Wed 9th Nov 2022
Emma Kennedy is founder and CEO of Grafter, which provides luxury flexible workspaces. She recently sat down for a fireside chat with journalist Fiona Alston at Enterprise Nation's Festival of Female Entrepreneurs.
The event, a day of entrepreneurial chat and inspiration for women in business, was held at Meta's offices in Dublin and in partnership with AIB, Sage and GS1 Ireland.
Emma shared her thoughts on the future of the office and how she became an entrepreneur.
Setting up Grafter
Emma founded Grafter in 2021. It provides flexible office solutions such as private offices, co-working hubs and meeting rooms in Ireland and the UK – and, if Emma's 'aggressive' expansion plans are anything to go by, the world!
Emma explains:
"At Grafter we call our properties 'houses' because we want them to feel like home. And essentially they are set up like hotels. We have a full concierge service, whether that be organising taxis or the catering, and we're there, day to day, for anything the client may need.

"I'm continually looking at properties across Ireland and we've now gone into the UK. We did a trip over to The States in the summer to try and find some properties over there and I'm now starting my list in Europe to figure out where to go."
The office
As the COVID-19 lockdowns saw many people working from home and travelling less to the office, it certainly has had an impact of how we view the office, even as we've come out of the pandemic. There is no doubt things have changed but there's still a role for the office in the future of work.
Emma says:
"Since COVID, the landscape has changed in terms of how the way offices are being used, and we've definitely seen that.

"I think there will always be a place for the office but how it's used will evolve over time. You see larger tech companies in bigger spaces but actually what they are doing is removing the desk space and becoming more collaborative.

"Since COVID there's a degree of trust in the employee if you're working from home. How are they actually structuring their day? Are they utilising their time effectively?

"On the flipside, some employees found they were chained to their desk at home and working longer hours. A balance there is needed."
Emma's advice, from an employer's perspective, is to be as agile as possible. She explains:
"The trick there is that employees are going to change their minds in terms of how they want to work.

"If you have a team of 10, eight may say they don't want to be in the office at all, but they can change their mind. Then you have to pre-plan as best as you possibly can. The landscape has changed but the office will always be there."
Founder and CEO
On becoming an entrepreneur and CEO, Emma did not always know where her career was going to take her. "I hadn't a clue what I was going to do," she says.
Emma left Ireland after college and moved to London, where she worked in Primark as a manager.
"I will say they have the best training programmes out there for anybody who wants to get into a managerial role."
From management, she moved into PR, which she confesses she was 'dreadful at', until finally her brother suggested she try out a sales role.
"I landed into an estate agency in Notting Hill – there was a lot of Irish people working there. Irish people are unbelievable salespeople."
Hitting targets
The role gave her lots of experience in meeting targets. To stay in the company she was required to do a deal within the first four weeks, which of course she did. She then began making up her own targets and pushing herself.
"I always kind of enjoyed the fact that I was running my own business within a business. That got me thinking that maybe it was something I could do on my own.

"But I didn't really know how to go about it. I'm yet to meet somebody who sat down and said they always knew they were going to be the CEO or founder of a specific business."
Flexing
Her drive took her back to Dublin and the opportunity to work for a flexible workspace. Later she moved to Australia and worked in the same sector but for a world-renowned workspace provider, giving her more experience.
"I came back to Ireland and wondered what I was going to do. I looked around at my own friendship group, and so many people around me had their own businesses."
Curiosity got the better of Emma and when the opportunity arose she took it and started Grafter.
Emma went on to share her experience as a CEO and how she balances her own life as founder of one of Ireland's hottest start-ups.
Watch the Festival of Female Entrepreneurs event to catch more of Emma's inspiring insights
Enterprise Nation has helped thousands of people start and grow their businesses. Led by founder, Emma Jones CBE, Enterprise Nation connects you to the resources and expertise to help you succeed.