BLOG
Eight steps to building a personal brand using social media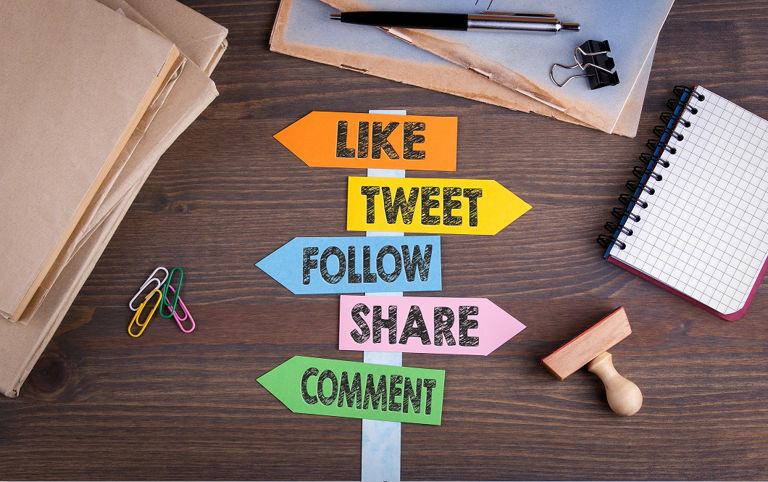 ---
Posted: Wed 5th Jul 2017
Many of the world's largest brands have founders or CEOs whose own personal brand is at least as large as the business they're associated with. Think Virgin; Richard Branson. Or Apple; Steve Jobs. Or even Enterprise Nation; Emma Jones!
Building a personal brand can be an appealing alternative to building a brand for your business. Customers often prefer to connect with the person behind the business. Nick Leech from 123 Reg, a supporter of Enterprise Nation's Go and Grow Online campaign, looks at the essential steps you need to take in order to start building your personal brand online.
When it comes to growing your business, social media will play a big part in connecting you with your potential customers.
And if you use it the right way, you can become a brand in your own right. People will start to wake up and listen to what you have to say. You'll become an expert, a thought leader and people will seek you out for information. Then they will notice your business.
But it's not easy as it sounds and setting up a Twitter or Facebook account is only scratching the surface. In this article I'll break the whole process down, so you can build a successful personal brand on social media.
1. Start by figuring out if a personal brand is what you really need
When I started the journey of building a personal brand, I first had to figure out my goals and what I wanted to be known for. This is an important step in the process because whether you're building a business or personal brand, the rule is always the same: your messaging needs to be clear.
If you run a business, let's say an online store for example, is there any point in building a personal brand? You might be better off building your business' brand as your customers won't often be dealing with you personally.
Your logo and your brand messaging are more important for your customers to remember in this circumstance. The quality of your business and the products they receive will be more significant to your customers than who is running the business behind the scenes.
Now, if you're in a client-facing position, working in a business where you deal with customers face-to-face or if your business is focused on you and your own experiences – for example, a blogger who wants to sell their own products - you'll need to build a personal brand.
It will take hard work, but becoming the 'face' of your business can have a positive impact on direct sales if you are successful in leaving potential customers with an excellent impression of yourself on social media. You'll also have a huge advantage in being able to see and connect with your target audience online.
You could also have both a business and personal brand and keep them separate from each other, but honestly, it's best to focus your efforts on one thing at a time.
2. Choose the platform for your brand
Choosing the best platform for your brand is easy when you know your target audience. Simply choose the platform that the majority of them are using.
You'll also want to pick the social media channel that best fits your industry. For example, if you're a florist or in fashion it might be a good idea to choose a visual platform like Instagram.
I recommend you focus your attention on one or two social networks only, as you'll need to give them your full attention to make an impact.
I chose to be very active just on Twitter, rather than spread myself too thinly. Here's a quick round-up of the most popular social media channels you can use to create a brand:
Twitter: Great for connecting with influencers in your industry and getting your content out there.

Facebook: A good choice for connecting with potential customers, although interactions aren't as visible as Twitter.

LinkedIn: Definitely a niche platform, and not as easy to build meaningful relationships – but great if your business is in a more corporate industry – for example consulting or recruitment

Pinterest: A great choice for building a personal brand around visual content – for example, interior design or even the food industry

Instagram: Another good choice for visual content, plus it's slightly easier than Pinterest to connect with your audience and influencers, and to build a following.
3. Develop a strategy
What's the story behind your brand? If the ultimate goal of this venture is to drive people back to your business, how will you use social media to tempt them in? Your strategy should be based around the goals you've set and the reason for creating your personal brand.
Another thing to think about is your tone of voice. This is going to help you build relationships with your potential customers, so establish your tone of voice and stick to it throughout your social media efforts in order to help your audience become familiar with your brand.
Connections are built upon consistency. And having the social media accounts is one thing, but without planning and strategizing your posts, you won't be able to create the consistency you need to keep your followers engaged with your brand. When you post is just as important as what you post.
It's not always easy to fit social media updates into a busy schedule so I've made good use of post scheduling tools to help me automate my activity. Read more about why and how to schedule your posts. That way, there's no going silent and my audience always knows what to expect.
Marketing automation tools are a great way to save time and manage your social media by planning your posts in advance, but always remember to check your notifications so that you can respond to any questions or comments in a timely way.
4. Create content
Building a brand on social media means always adding quality content to your social media channel to keep your audience engaged. The more your content is read and shared, the faster your brand grows.
The content should be a mix of articles that you've written, posts by people whose opinion you respect or those that you've found interesting and valuable.
The best way to figure out the kind of content you should be posting is to observe your target audience and the kind of material they interact with. What gets the most likes, shares and comments?
Comments on your posts are a good sign because they show that your material provoked a strong enough response for people to take the time to share their thoughts with you after reading. They also give you an opportunity to connect with your audience and collect feedback you can use to improve future material.
Shares are brilliant because they help you to promote your work. It's also a very good sign that you're producing quality material that's making an impact; so much that your followers feel compelled to share it with their own followers.
Of course, consistently producing content of this quality will be challenging, and there will be times where you run out of ideas. This is where content curation comes in, a good strategy to fill in the gaps and show a different side to your brand.
To get going, research the thought leaders and influencers in your industry, find the best content from them and share it with your followers. Having a mix of promotional, personal and curated content on your page helps to create a full picture of who you are and what you believe in as a brand.
5. Be consistent
When you first start out, it might feel like you're talking and no-one is listening. And believe it or not, these are the times that you'll need to be the most active.
Even if you have no followers, keep going! When visitors land on your profile page, it's the content that's already there that's going to lure them in, not the content you plan to post once you've hit your desired follower count.
Your followers need to get used to seeing your posts pop up on their timeline. With millions of people posting on social media by the second, your posts could easily get lost in a sea of activity. Any gaps of silence from you and you'll be quickly forgotten about.
Create a posts calendar so you know when you're posting what. This will give your content strategy a structure you can stick to. You can get templates and software online, but your calendar doesn't have to be anything fancy. You could even whip one up yourself using Excel or a table in Word.
The consistency will pay off eventually, and when it does, you'll need to be ready to convert your new followers into customers. That's why a solid proportion of the content that you've shared should be on your own business website. It's where you ultimately want your audience to end up.
6. Identify and engage influencers
Influencers are a crucial part of building a brand on social media. The sheer size of their reach and authority means that one retweet or share from them can get your work seen by an incredible amount of people.
When I first started out, I made it a priority to work out who had authority in my niche, followed those people and started to share their content. If they asked a question, I tried to answer it.
Twitter makes it very easy to connect and interact with strangers; in fact, it's the norm. So leaving comments on the work of influencers as well as sharing their content is a great way to put yourself on their radar.
Another thing I always remember to do is thank the people that share my content. By always favouriting, or sometimes by following or retweeting them. It leaves a good impression, shows appreciation and helps you build connections.
7. Analyse results
Monitoring results is the best way to see improvements. By analysing which of your posts got the highest engagement, you can repeat and continue to see results.
You can also check which social networks are driving users back to your website, so you can direct your focus to those. Analysing results also allows you to experiment, a key part of building a personal brand. You won't know where you're going to strike gold unless you try new things and continuously refine your strategy.
Both Twitter and Facebook have inbuilt analytics to let you review what went well. And if you want to see how the traffic you directed towards your website fared, I recommend Google Analytics.
8. Advertising
There's no quick fix to building a personal brand on social media. Patience and perseverance will be required, but if you've chosen Facebook or Twitter as your platform of choice you may want to take advantage of their paid advertising.
A targeted ad campaign can give your results a boost because you'll attract the right kind of audience to your brand, including your influencers. You may have to spend a little bit of money, but advertising can pay off.
That's it for now
The process of building a personal brand on social media can be broken down into the eight simple steps we've covered in this article. Start by figuring out your goals, choosing the right platform to build your brand and developing a strategy. Once you have a plan of action, you can start creating content and engaging influencers by sharing and commenting on their content. Analyse the results you get using your channel's built in tools, and try out paid ads to attract the right audience to your content. And most important of all, stay consistent.
With patience and dedication to your goals, taking these steps will allow you to create a thriving personal brand.
Whether you're just starting out or you've been online for years, 123 Reg's free online courses will help you create your website, engage with customers, and increase visitors. Find out more here.
This article is part of Enterprise Nation's Grow and Grow Online campaign, helping you build a better business on the web. Access content, offers and events here.
Enterprise Nation has helped thousands of people start and grow their businesses. Led by founder, Emma Jones CBE, Enterprise Nation connects you to the resources and expertise to help you succeed.