INTERVIEWS
Creating a brand for a food or drink start-up: Tips from Jimmy's Iced Coffee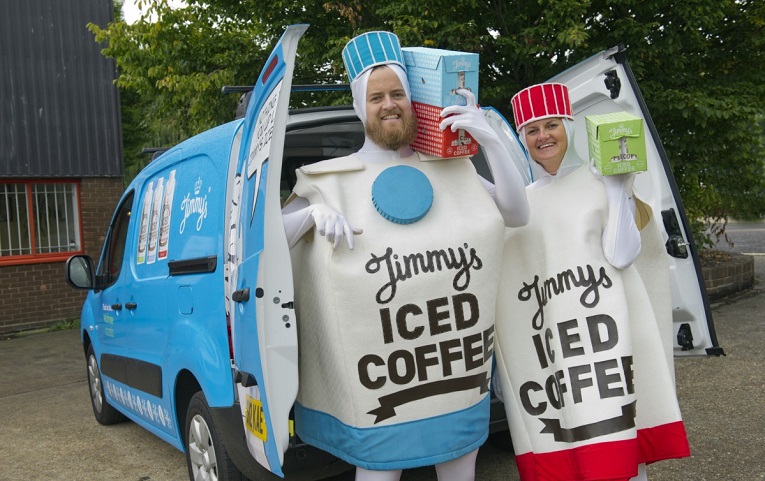 ---
Posted: Wed 28th Nov 2018
Food and drink start-ups need to develop brands that capture shoppers' attention. Trying to explain your product through the label or bottle alone is tough. Chris Goodfellow spoke Jimmy's Iced Coffee co-founder Jim Cregan about the steps food and drink founders can take to make sure their brand is memorable.
Show your brand values
The logo, images and description you use should convey what your company's about. Why should customers choose your product over other options? What does it stand for?
Jim Cregan started Jimmy's Iced Coffee in 2011, developing a personal brand from the outset and involved by surf brands from the 80s and 90s like Surfers Alliance, Hot Tuna and Billabong.
"I self-titled the brand because of two reasons. It was a nod to Oz where I found iced coffee and it;s the only country where people called me Jimmy instead of Jim. It's also more personal when it's someone's name on the front," Cregan said.
Personality is important for getting supermarket listings too. Cregan said he met their first buyer with a mixture of excitement and nerves.
"We went in with a presentation that a third party had helped us with. It included waterfall charts, info on basket penetration and more.
Our buyer told us to shut our laptop and just talk normally. That helped us get the win, so be yourself! You can't fool a buyer!", he advised.
Want more resources to help you build a strong brand?
No matter how great your products or services are, they won't reach your target audience if you don't brand and promote them effectively. Enterprise Nation members can access in-depth advice on branding, marketing plans, social media and attracting new customers.
Discover the full range of member benefits
Test the product and branding with customers
Pop-up shops, market stalls and supermarket sampling provide opportunities to find out what customers thinks. Grab every opportunity you can to learn more about them and the product.
Successful food and drinks businesses test, iterate and improve their products. Cregan said the team use his sister's cafe as a "test centre and research lab" to work on the recipe.
Make sure you capture customer feedback through a survey or making a record of conversations you have about the product.
Free trials are a great way to convert customers too, Cregan added.
"Go to as many events as humanly possible. Be creative about how you attract people to your stand. I tend to run competitions and wear silly outfits, which always seem to attract attention," Cregan told Enterprise Nation two years after starting up.
Amplifying your brand on social media
It's important your food and drink brand is cohesive so that customers can recognise the product whether they're at an event or following you on Instagram.
Cregan's approachable, fun personality didn't just influence the company's name, it comes across in the marketing too. In one video, he explains how he discovered iced coffee in Australia.
And in this video, Jim introduces the company's vegan brand.
Jimmy's Iced Coffee uses the slogan 'Keep your chin up', a reference to his happy-go-lucky demeanour and a call for customers to keep drinking. He runs fun competitions too, like asking for the best customer photo with a "Jimmy moustache".
Cregan recommends doing the social media yourself, rather than paying someone, when you're starting up.
When the business launched he shared all the work he was doing looking at labelling, testing ingredients and talking to customers.
Today, the brand has 19 employees, is available in four countries and a Jimmy's Iced Coffee is sold every five seconds, 24 hours a day, seven days a week.
That could be you too.
Want to connect with like-minded business owners?
Become an Enterprise Nation member to get exclusive access to free networking meet-ups, involving coffee and plenty of conversation. Membership is just £10 a month and you can cancel at any time.
Chris has over a decade of experience writing about small businesses and startups. He runs Inkwell, a content agency that helps companies that sell to small business owners grow their audiences through content marketing. You can find him on Twitter at @CPGoodfellow.