BLOG
Why it's wise to create the right office from the start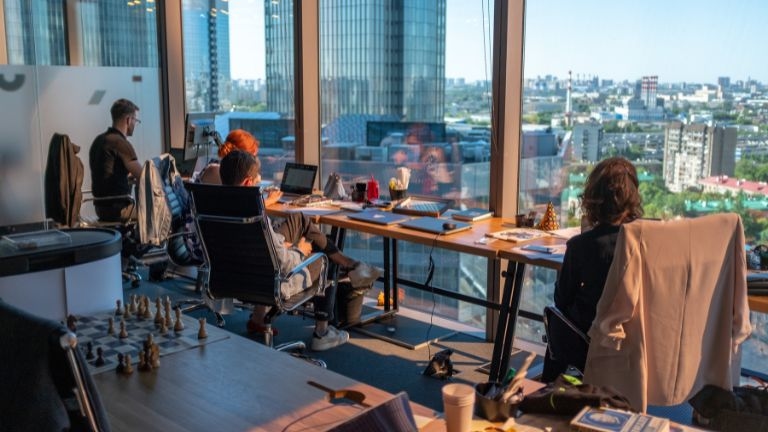 ---
Posted: Fri 24th Jun 2022
Office environments have undergone many iterations over the past few decades, from sterile cubicles to open-plan layouts and rooms supporting large virtual-office screens.
Today, business owners remain mindful that creating the right workspace can benefit their employees, helping them to relax, feel happier and be more productive.
Despite the evolving landscape of our workplaces, one thing that has remained constant is the impact that our office environment has on our mental health and wellbeing.
With this in mind, new start-ups and growing enterprises can benefit their business early on by designing a comfortable and welcoming office from the get-go.
Savvy business owners need to consider the various ways they can build an inspiring office environment for the modern world, one that will boost productivity, enhance employee happiness and lower stress levels.
Today's modern workspaces need to be mindful of flexible work patterns, from hybrid employees and co-workers to part-time home workers and hot-deskers.
Create quiet areas
A noisy office isn't typically conducive to productivity and it can lead to distractions between teams, which can make it a difficult place to work.
Most people work better in a quieter office, but this can be harder to achieve in an open-plan office.
To make sure that everyone has areas they can work to their best abilities, it's a good idea to have quiet rooms for meetings or just to provide staff with areas they can go to work if they need a break from the hustle and bustle of a busy office.
Resorting to headphones to deflect noise in a loud office isn't ideal or professional if colleagues are disengaged from their co-workers.
It might actually be the prompt you need to address noise levels and carve out corners where chatter can work without causing chaos.
However, it can be a good idea to allow staff to use headphones if they are listening to music or taking work-related online zoom meetings at their desk.
Some employees work best when they can block out outside noise and focus more clearly.
Embrace natural light
A bright work environment helps reduce eye strain and headaches when staff are staring at a computer screen all day, but it also makes for a more enjoyable workspace.
Having plenty of light in the office helps to boost our mood and emotional wellbeing, and also improves creativity.
When you're considering office lighting, you may want to consider adding skylights if your premises allow for this to maximise natural light and move bulky furniture that may be blocking sunlight.
It's also a good idea to replace any flickering or damaged lights and layer different types of lighting to create a more ambient environment.
Clean air and hygienic furniture
Air quality actually has a big impact on your employees' health and also their productivity.
In fact, studies have found that the amount of ventilation and fresh air brought inside can help to reduce sickness symptoms, minimise absenteeism and reduce the transmission of infections and viruses, while also boosting productivity by as much as 10%.
In addition to opening windows and installing air filtration systems in the office, you can also add plants - plants add colour and visual impact, but they also help to purify the air to make it cleaner.
The first step to creating a workplace that your staff will want to work in is to ensure it's clean.
Cleaning specialists Supreme Cleaning explain, "unclean, scruffy furniture is hugely demotivating for staff. Office workers spend on average over 40 hours per week at work. A clean office makes your employees feel valued, and that includes the cleanliness of the upholstery. Even the odour of filthy upholstery can affect your employees' ability to focus".
Make sure that kitchens, communal areas and desks are all cleaned thoroughly to create a work environment that your employees want to come into every day.
Upgrade your office decor
Just as you would decorate your home to make it aesthetically pleasing, so too should your office be decorated to make it visually appealing.
With many people returning to the office after months of working from home offices and carrying out meetings over Zoom, you want to ensure that the decor of the office is vibrant, interesting and motivating.
Updating the decor to include large art prints and colourful photography can help to boost staff morale and improve their productivity.
Adapt space into an activity room
If your office has some extra space, reconfiguring it to create a new activity room for staff to use during their breaks is a healthy and popular option.
Embrace the office sports vibe by installing gym equipment or a golf simulator to help staff practise their swing; a simulator can also work as an indoor cinema to screen major sporting events throughout the year.
While you should prioritise space for work, encouraging any activities can benefit employees and so building a room with multiple functions is a healthy asset to have in any modern office.
Add chillout zones
While staff are in the office to work, it's still important to have areas where people can take a break, relax and unwind in between working.
Regular breaks are important to inspire creativity and build relationships between colleagues, but it's also essential that the office has comfort areas to lessen muscle fatigue and provide different areas for staff to work throughout the day so they're not chained to the same desk for eight hours a day, which has a negative impact on our physical health.
To create inspiring relaxation zones, make sure there are comfortable seating areas for brainstorming or informal meetings, add foosball or pool tables, and utilise colourful decor for brightness and to separate it from the rest of the office.
Studies have shown time and time again that your surrounding environment has an influence on your health and wellbeing, but it also impacts your productivity, happiness and performance.
Designing an office for the future, one that accommodates flexible work patterns and benefits both employees and businesses is key. Companies of all shapes and sizes have a great opportunity to inspire their staff by making small but impactful changes to enhance the office environment.
---
Connect with Dakota on Enterprise Nation today for more business support.