BLOG
Missing out by not being on Clubhouse? Find out what entrepreneurial early adopters are saying...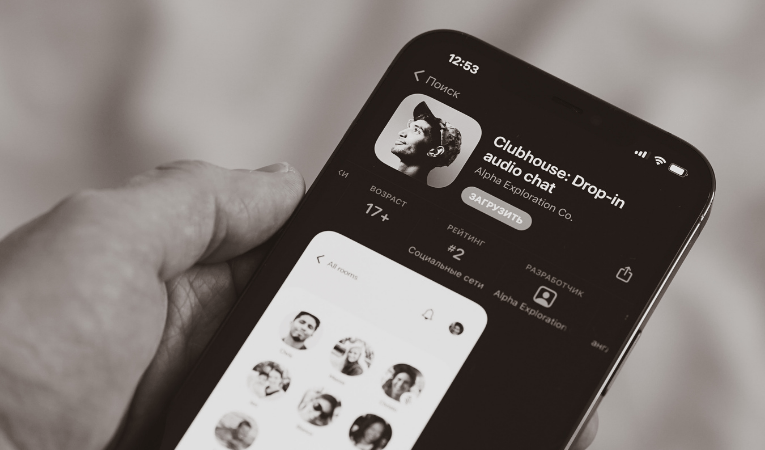 ---
Posted: Fri 19th Feb 2021
Clubhouse is the hottest new social media platform on the block and it's already causing quite a stir among the start-up community.
For anyone unfamiliar with the Clubhouse concept, it's a live-voice chat app that allows anyone across the globe to listen and participate in conversations.
While I've already heard talk of the business now being valued at a jaw-dropping $1 billion; it has also done extremely well at attracting celebrity users, including many well-known entrepreneurs.
Founders are questioning whether it's a genuine portal to build their brand profiles, while marketeers like myself are pulling their hair out as it presents challenges to navigate yet another platform.
So, it is worth all the hype? To help me answer that question, I spoke to a number of early adopters that are engaged with the platform.
To begin with, I've picked out six tangible takeaways – but do keep reading, as these entrepreneurs have spilled all their secrets to achieving success on Clubhouse:
Don't sell: Focus on how you can bring value to a room and its users.
- Simon Squibb, founder of The Purposeful Project

Set up your own rooms! If you don't see one that interests you, go and create your own. It can help to collaborate with others.
- Jess Butcher MBE, founder of Blippar

Enter with an open mind: Have low expectations. Experiment with it and have fun!
- Ben Keene, co-founder of Rebel Book Club

Find people in your industry: This is the best opportunity you'll have to talk to some of the most influential people in your field.
- Paul Green, founder of The Cockpit Method

Don't be tempted to just follow all the 'big guns' on there: Rooms with thousands of people can get very noisy and it's harder to get noticed.
- Lorraine Allman, founder of Can-Do Child

Your time is your number-one asset: Use it wisely! 
- Doug Monro, co-founder and CEO of Adzuna
Simon Squibb, founder of The Purposeful Project
@SimonSquibb – 6.7k Clubhouse followers
Clubhouse allows me to connect with real people, in real time. Unlike other social media platforms, you can hear people's voices and their authentic selves. This is hugely valuable to me.
To maximise the benefits, it's important to have a Twitter or Instagram account connected to the app. This will enable you to network longer term by bringing people into your ecosystem.
I recommend that people are careful who they follow on Clubhouse. The algorithm will group you next to the people you follow. So only follow me, for example, if you want entrepreneurial insights and rooms linked to all things start-up related.
Follow Simon at @SimonSquibb and hit the alarm bell on his profile for notifications. Join his clubs:
Tuesdays 9.15am GMT: "Entrepreneurs Assemble! Network + Connect"

Friday 8.15pm GMT: "Entrepreneur stories!"

Saturday 7am GMT: "Startup radio; entrepreneurs helping entrepreneurs"
@jessbutcher – 3.7k Clubhouse followers
Clubhouse has brought serendipity back in business networking for me, which is such a welcome during lockdown. All my other platforms are pinging away off Clubhouse as a result of the great conversations I have been a part of.
I'm hugely enjoying working with new, incredibly impressive colleagues on the 'Startup radio' project – a collection of successful UK-based entrepreneurs – including Dan Murray-Serter, Rachel Carroll, Alex Depledge, Beta Lucca, Tom Ross, Aaron Ross, Hannah Russell, Tushar Agarwal, Jimmy McLoughlin, Michael Litman, Bejay Melunga.
I've met many fascinating entrepreneurs within various rooms who I've subsequently had brilliant off-line conversations with – mentoring, investor introductions, feedback etc.
The people you follow will probably depend on your sector of interest. Given the early-adopter demographic – there are lots of VCs, angels and entrepreneurs offering great value now. They are all floating around, offering free advice and anecdotes (good and bad – which helps us all feel less alone with our business challenges!)
Obviously, I'd recommend all the 'Startup Radio' shows and following those moderators, as these guys are basically giving free mentoring. There is no selling, just great advice and lots of valuable deep dives.
Everyone's currently hacking around on Clubhouse, so my advice would be don't overthink it, just jump right in. As user numbers continue to explode, I do think that as with all platforms, quality will hugely matter. But as of now, the opportunity to do this well is for the taking – and everyone's learning together.
Ben Keene, co-founder of Rebel Book Club
@Ben.Keene – 456 Clubhouse followers
The value that Clubhouse offers me is that it's a fresh and fun social format in lockdown!
I'm following people I know or are curious about. It's the ideal place for small business owners to learn from and connect with peers and useful future contacts.
A Clubhouse room is as good or bad as its moderators. You'll know within a couple of minutes. I've set up three rooms and invited people I like to join without expectations. Or if you rather join other groups, you can find them by searching keywords of interest. For me, I'm searching 'climate start-ups', 'book clubs', 'B Corps' etc."
Paul Green, founder of The Cockpit Method
@PaulGreen – 352 Clubhouse followers
Clubhouse provides an opportunity to tell my story. Having lost my dream job as an airline pilot and starting up a business, I find it difficult to get this across in writing. Clubhouse is the perfect platform to share my entrepreneurial journey in real time!
With a lot of social media platforms, people hide behind automation or have a team of people who post on their behalf. This is not possible with Clubhouse.
You can engage with Paul by joining his Clubs: 'The Cockpit Method' where he shares his experience in aviation and 'The Wellbeing Contract' for talks on all things related with wellbeing.
Paul's recommendations:
Have a profile picture that stands out: People will then notice you among the audience.

Make sure your profile is clear: Show who you are and what you do. Imagine it like a calling card!

Find 'pop up' networking sessions: You'll be given a slot to pitch and share what you are looking for.

Search for @helenpritchard and @petescott: They host a daily room at 11am that offers sales and marketing advice for business owners. It's one of the most valuable rooms I have been in.
@candochild – 160 Clubhouse followers
Clubhouse gives me the freedom to dip in and out of interesting conversations. A bit like having the radio on or listening to podcasts but with the added functionality of being able to contribute live.
I've found as my follower count builds and I regularly attend rooms, the more likely I am to be asked to go "on stage" to speak by moderators without even asking!
It would only be right to mention that there are concerns about accessibility and inclusivity with Clubhouse. Although things are improving all the time. It can be difficult for people with visual or audio impairments to access, but they have since labelled their buttons, which is apparently helping a lot."
Lorraine's recommendations:
Join the 'UK Business Owners Lounge', every weekday 9-10am.

Follow @danielpriestley - he talks a lot of sense.
Doug Monro, co-founder and CEO of Adzuna
@dougall – 61 Clubhouse followers
And finally, any good debate demonstrates both sides of the argument. So, I spoke to Doug Monro for his unfiltered opinion. Doug said:
"In the early days of Zoopla and Adzuna, we ignored conferences and just focused on our product, customers and business. This is key.

"I think Clubhouse is great if you want to sell things to the people on there, or if you can 'own' a popular thought-leadership channel. But for most founders, that's not helping their life balance or their business.

"Founders need to decompress, exercise, spend time with family and friends at evenings and weekends.

"There's also something weirdly inefficient and un-inclusive about it. It feels like being stuck in a bad panel at a conference – but 24/7! I'm sure it will be huge and work as a channel for some businesses but that's my sceptical two cents."
Relevant resources
Lorna Bladen is the Head of Marketing at Enterprise Nation. Lorna has over ten years of experience working in marketing. Previous roles include: Head of Marketing at Escape The City Head of Partnerships at Moneypenny Working as a freelance marketing consultant. Lorna is based in Brighton, West Sussex and is open to supporting small businesses across the UK. Lorna's mentoring experience Lorna has over ten years of experience working with small businesses at a senior level. She is excited to use their expertise, along with their leadership and management skills to support a small business to grow. Lorna has also recently undertaken training with the Association of Business Mentors. How Lorna can help your business Lorna can help you with social media, digital marketing, content production and partnership building. Lorna has experience working with small businesses across a number of different sectors - including fashion, homewares, food and service-based businesses. Lorna will act as a sounding board and guide you through 1:1 mentoring. Lorna will be a good listener, ask the right questions, and be passionate about helping you achieve your business goals.