BUSINESS NEWS
The chancellor's summer statement: What small businesses need to know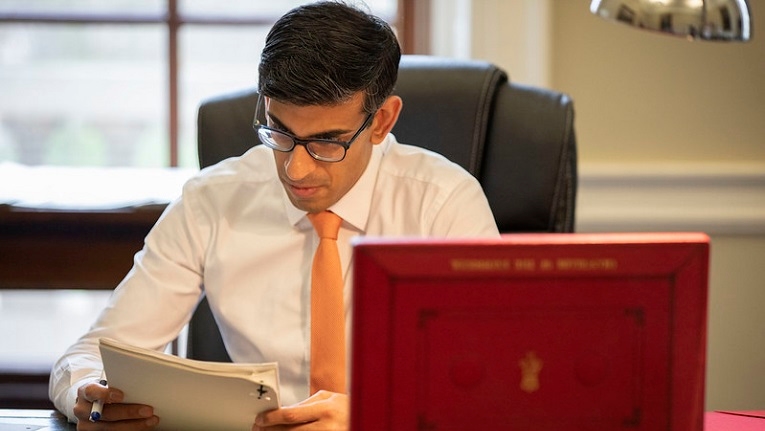 ---
Posted: Wed 8th Jul 2020
Chancellor Rishi Sunak has delivered a economic statement that outlined the government's next stage of measures to help the UK recover from the coronavirus pandemic.
Billed as a 'plan for jobs', the speech focused on employees with no specific announcements on starting and growing a business or new grants for entrepreneurs yet to receive grants to deal with the impact of COVID-19. Replay what our panel of experts had to say during the speech.
The chancellor addressed pressure to extend the Coronavirus Job Retention Scheme as well as supporting the UK's hospitality and tourism businesses. Here are the measures he announced that small businesses need to know.
Job Retention Scheme
The government has already announced that the Job Retention Scheme, which sees the government covering wages for furloughed staff, will end in October. From August, businesses will need to cover part of their workers' salaries.
There has been many calls on Sunak to extend the scheme beyond October, particularly for the hospitality sector, but he confirmed today that the plan for an October closure remains.
"Calling for endless extensions to the furlough is just as irresponsible as it would have been, back in June, to end the scheme overnight," the chancellor said.
"We have to be honest. Leaving the furlough scheme open forever gives people false hope that it will always be possible to return to the jobs they had before."
Instead, he announced a 'Job Retention Bonus' will be introduced to help firms keep furloughed workers. UK employers will receive a one-off bonus of £1,000 for each furloughed employee who is still employed as of 31 January 2021.
Employees must earn above the lower earnings limit of £520 per month on average between the end of the Coronavirus Job Retention Scheme and the end of January 2021. Documents released to accompany the speech reveal that payments will be made to businesses from February 2021 and more guidance will be published by the end of July.
Support for hospitality and tourism businesses
To help hospitality businesses, which collectively employ 1.8m people, VAT will be cut from 20% to 5% for food and non-alcoholic drinks. It will run from 15 July 2020 to 12 January 2021. The same VAT cut will be introduced for accommodation and visitor attractions.
To encourage people to use cafes, pubs and restaurants, the government is launching the Eat Out to Help Out scheme. Every diner will get a 50% discount of up to £10 per head on their meal, at any participating restaurant, café, pub or other eligible food service business.
The discount can be used unlimited times and will be valid Monday to Wednesday on any eat-in meal (including on non-alcoholic drinks) during August 2020 across the UK. Participating establishments will be reimbursed for the discount.
Guidance on the Eat Out to Help Out scheme and registration details for businesses will be published on 9 July. Restaurants and other eligible outlets can register for the scheme from 13 July.
UPDATE (13/07/20):
Guidance for Eat Out to Help Out and the online service for businesses to register has been released. Find out more.
Funding for jobs for young people and apprentices
The new Kickstart Scheme will fund jobs for young people aged 16-24 who are claiming Universal Credit and are at risk of long-term unemployment. Funding for each six-month job placement will cover 100% of the National Minimum Wage for 25 hours a week. Employers can top the wage up if they wish.
The government will provide an additional £111m in 2020 for traineeships in England, to fund work placements and training for 16-24 year olds. Employers who provide trainees with work experience will receive £1,000 per trainee.
The government will also introduce a new payment of £2,000 to employers in England for each new apprentice they hire aged under 25, and a £1,500 payment for each new apprentice they hire aged 25 and over, from 1 August 2020 to 31 January 2021.
Green Homes Grant
In a move which could benefit small business providing environmentally friendly services to homeowners, the government is introducing a £2bn scheme that provides homeowners and landlords with a grant on making their homes more energy efficient, up to £5,000 per household. For those on the lowest incomes, the scheme will fully fund energy efficiency measures of up to £10,000 per household.
Enterprise Nation's reaction
Emma Jones, founder of Enterprise Nation, said: "Today was all about jobs, which is understandable at this time. What we'd like to see in the chancellor's referenced Phase 3 of 'Re-build' is focus turning to how small businesses can be supported via national advice schemes, as well as accepting that young people may want to start their own business as opposed to getting a job.
"It is an enterprising nation that will create and maintain jobs and to do that, founders need access to essential advice. With over five million small firms, if each company made just one hire, that will avoid any kind of unemployment cliff edge.
"To have confidence in making those hires, small business owners need to re-build sales, re-connect with customers and maintain the mass digital adoption we've seen in the past couple of months. There was little reference to this today but we are hopeful it will appear in the next phase.
"In the meantime, we remain sure that small business owners will battle through and do the job requested of them by the state today which is to back their people and bring the country back onto its trading feet."
The latest coronavirus support information
Get advice and ask a question in Enterprise Nation's coronavirus business advice hub. Follow Enterprise Nation on Twitter too for updates.
I'm a freelance content creator and event host who helps small businesses and the organisations that support them. I have 18 years of experience as a small business journalist having interviewed hundreds of entrepreneurs from billionaires like Sir Richard Branson to the founders behind brand new start-ups. I've worked for a range of leading small business publications and support groups, most recently as head of content at Enterprise Nation where I was responsible for the prolific output of content on the company's blog and social media. I'm based in Bristol where I run and host regular events with the local small business community and have strong connections to major business organisations in the south west region. In total, I've hosted over 50 events; from intimate meet-ups to conferences with an audience of hundreds including events for international brands like Facebook and Xero. I'm also a big fan of podcasts having hosted Enterprise Nation's Small Business Sessions as well as lots of online events including Facebook Live interviews, webinars and three live web chats from inside 10 Downing Street. With my partner, I co-run Lifestyle District, a lifestyle blog focused on culture, art, theatre and photography. I'm here to help. I'm volunteering free advice calls of up to an hour as part of the Recovery Advice for Business scheme, over the next 6 months. Please get in touch to see how I can help your business.