BLOG
10 sales advisers on Enterprise Nation who can help you boost your business revenue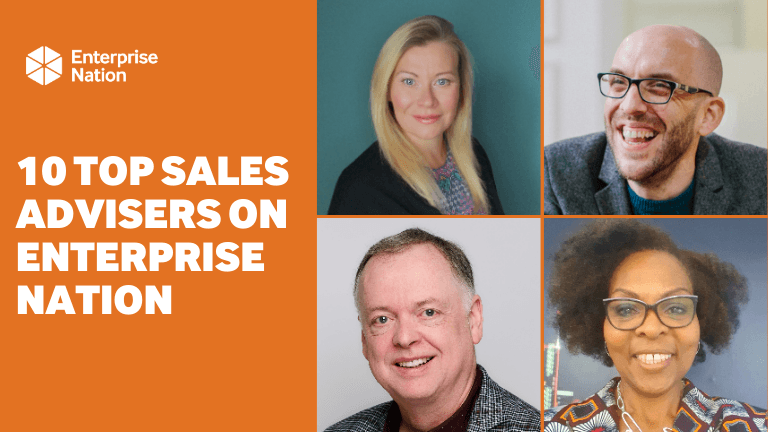 ---
Posted: Wed 17th Mar 2021
"Much more must be done to recruit skilled salespeople to drive the economy out of recession and to find new global trading opportunities", said a report by an MP-led inquiry earlier this month.
According to the All-Party Parliamentary Group for Professional Sales, job adverts for business-to-business salespeople increased in intensity by 25% during the last 12 months but employers' needs for advanced expertise in digital selling are going unmet.
A lack of capability to sell through digital channels is a barrier to British businesses selling abroad, it warned.
Enterprise Nation advisers can help boost sales skills
The Enterprise Nation platform is all about connecting small businesses with experts in key fields including sales. We believe it's by accessing advice from professional advisers that business owners will achieve the growth that the British economy needs. We strongly encourage small businesses to seek help from independent experts.
All advisers on Enterprise Nation offer free discovery calls. You just need to sign up as a member for free and visit the adviser's profile to book a free call.
Here are 10 of the many great business sales experts ready and waiting to help.
Lara Maloney, Lara Maloney Limited
With a career spanning 23 years across media, advertising, creative industries, publishing, Lara supports ambitious businesses to scale, with a focus on revenue generation, business development, strategy and growth. She harnesses her skills in building businesses through her online revenue generation course, workshops and mentoring.
With sales are at the heart of any business but often not prioritised or well understood, Lara focuses on ensuring that a successful sales process and culture are embedded in an organisation to drive results and sustainable growth.
> Book a free discovery call with Lara
Paul Durrant, PDT Sales Consultancy
Paul is a qualified sales professional, entrepreneurship specialist, Fellow of the Institute of Sales Management and Enterprise Nation Top 50 Adviser. He uses his 30 years of experience in sales and business to help small business owners, sales leaders and salespeople sell better and sell more.
Paul also helps small business owners to be more innovative, creative and entrepreneurial.
> Book a free discovery call with Paul
Lynn Kennedy, Sales Untangled
Lynne is a part-time sales director, sales mentor and consultant helping businesses to make sales growth simple. As a co-founder of Sales Untangled she helps business owners make sales a real engine of growth, create value messaging that motivates your key customers and boost sales revenue and profitability.
> Book a free discovery call with Lynne
Sian Thomas, Integrow Sales Solutions
Sian is a sales consultant for manufacturers, specifically producers of consumer goods selling via resellers and other distribution channels. She has helped many businesses to develop growth strategies, delivering at least 10X return on investment. She has also contributed a chapter to Sales Genius Volume 2, an Amazon bestseller in the sales category.
Sian focuses on creating the right message for the right person at the right time to improve customer conversions and, more importantly, customer retention resulting in predictable revenue generation for the business.
> Book a free discovery call with Sian
Dave Holloway, Wonder Leads
Dave is a business development expert and author of bestselling book Wonder leads: remarkable lead generation for positive small businesses, shortlisted for Sales and Marketing Book of the Year 2021 at the Business Book Awards.
Dave's goal with Wonder Leads is to help raise the bar of business communication, and help the smallest businesses to start building positive connections with the people that matter to them. "If the whole world could do that, then who knows what incredible things we might all accomplish."
> Book a free discovery call with Dave
Janice B Gordon, Scale Your Sales
Companies hire Janice B Gordon, The Customer Growth Expert, to unleash hidden potential and accelerate growth by investing in customer-centric selling. Her Scale Your Sales framework develops leading-edge capabilities to secure, retain and grow key customer relationships for long-term value.
Janice is a consultant, speaker, trainer, listed #25 in the Top 100 Global Business Influencers, #4 Top Sales Guru January 2020 and author of Business Evolution: Creating Growth in a Rapidly Changing World.
> Book a free discovery call with Janice
Matt Jefferson, Jefferson Sales
Matt has been providing sales services to businesses since 2005. He delivers fixed cost business sales support in an effective and flexible way enabling you to pick and choose from a menu of sales consultancy services appropriate to the stage of your business. Everything Matt does is customised to your requirements and helps you grow as a business.
He can work full-time for a specific time period or he can be engaged on an interim or part-time basis to assist with a particular project or challenge.
> Book a free discovery call with Matt
Si Conroy, Scarlett Monday
Business consultant, coach, mentor and NED based in Brighton but operating across the UK, Si specialises in helping business owners remove their blockers to profitable business growth, be they strategy, marketing and sales, people, finance or systems/process. He acts as a combination of chairperson, non-exec, mentor and coach for businesses prior to professional management/investment.
> Book a free discovery call with Si
Nicola Thomas, A La Carte Consulting
Nicola Tomas is passionate about helping food and drink SMEs build sustainable and profitable sales overseas. She works with business owners to tackle the pain points they encounter as they develop their exports, including finding and managing best-fit in-market partners, optimising limited human and financial resources and getting set up internally.
> Book a free discovery call with Nicola
Dawn Crossingham, D52 - Business Toolkit
Dawns has over 13 years of experience working with 500+ businesses. She helps UK start-up, early stage and mature small to medium sized businesses undertake a thorough business analysis in order to identify USPs and business growth areas. Dawn has extensively supported businesses to increase their sales and profits, develop realistic cash flow forecasts and implement a robust and workable business strategy.
> Book a free discovery call with Dawn
If you're a sales expert wanting to share your expertise and get more clients, sign up as an adviser on Enterprise Nation today. Adviser membership offers opportunities to connect with thousands of the UK's most exciting small businesses.
I'm a freelance content creator and event host who helps small businesses and the organisations that support them. I have 18 years of experience as a small business journalist having interviewed hundreds of entrepreneurs from billionaires like Sir Richard Branson to the founders behind brand new start-ups. I've worked for a range of leading small business publications and support groups, most recently as head of content at Enterprise Nation where I was responsible for the prolific output of content on the company's blog and social media. I'm based in Bristol where I run and host regular events with the local small business community and have strong connections to major business organisations in the south west region. In total, I've hosted over 50 events; from intimate meet-ups to conferences with an audience of hundreds including events for international brands like Facebook and Xero. I'm also a big fan of podcasts having hosted Enterprise Nation's Small Business Sessions as well as lots of online events including Facebook Live interviews, webinars and three live web chats from inside 10 Downing Street. With my partner, I co-run Lifestyle District, a lifestyle blog focused on culture, art, theatre and photography. I'm here to help. I'm volunteering free advice calls of up to an hour as part of the Recovery Advice for Business scheme, over the next 6 months. Please get in touch to see how I can help your business.