ANNOUNCEMENTS
Business Builder pitching day: Meet the grant winners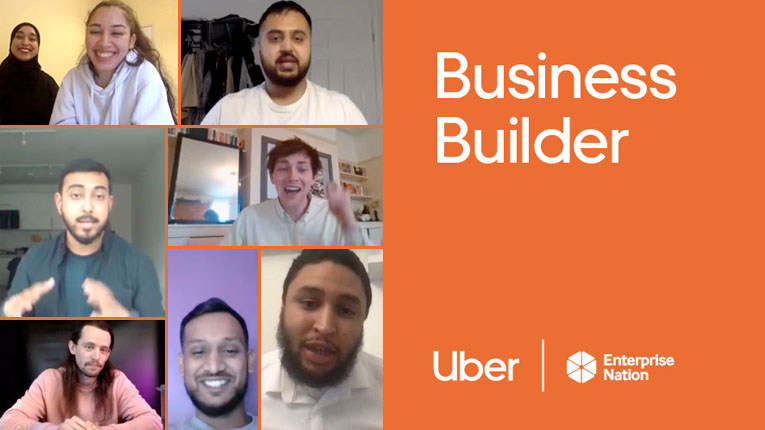 ---
Posted: Tue 30th Mar 2021
A few short weeks ago we kicked off Business Builder - one of three support programmes we're delivering as part of our Empowering Journeys partnership with Uber.
Earlier this month it drew to a close in spectacular fashion, with one participant receiving a £10,000 grant to take their fledging business to the next level.
To be in with a chance of securing the grant, we invited all 100 Business Builder participants to a pitching day. Each had three minutes to pitch their idea to Eugenie Teasley, Uber's social impact lead, Toussaint Wattinne, Uber Eats' UK & Ireland general manager, and Ashkan Kebriti, Uber's general manager.
The judges then decided on the seven finalists, each of whom would be rewarded with a grant of at least £5,000 - with £10,000 going to the winner and £7,500 to the runner up.
Before we reveal the winners' identities, let's meet the seven finalists and check out their pitches…
Anissa Brahmi
Twenty-three-year-old Anissa pitched her idea for The Little Taco, a food business she's planning to launch from a 'ghost' kitchen in west London. As the name suggests, the main product will be tacos, but with a twist: Anissa is creating a diverse menu that showcases not only flavours beyond traditional Mexican, but which has vegan, halal and kosher options (and bundle choices for families). With its delivery-only model, The Little Taco is designed to be as environmentally friendly as possible - in addition to its carefully considered packaging, it will strive to work with local suppliers wherever possible.
Mohammed Ali
Mohammed is the founder of Dazzle & Bloom, the first designated platform for individuals to sell their pre-loved Asian wedding clothing. The idea came from Mohammed's own wedding outfit, which cost him £700 and which has been in his wardrobe ever since the big day. Having taught himself how to code in lockdown, Mohammed built the Dazzle & Bloom platform - now, he's looking to get micro and mega influencers onboard to spread the word, and to build an all-important app.
Oliver Mason
The owner of a soon-to-open bookshop and micro pub in Oxford called - wait for it - Gulp Fiction, Oliver has big ambitions for a business that will cater to one of the world's best-read populations (not only with its books and drinks, but via gigs, book clubs, author talks and comedy nights). An advocate of relaxed, confident and knowledgeable bookselling, Oliver is adamant that excellent customer service is the way to encourage repeat customers (alongside an extremely appealing booze for books loyalty programme).
Haroon Shafiq
Twenty-two-year-old Haroon, who hails from Burton upon Trent, is a vehicle technician with plans to launch a mobile tyre-fitting and mechanics business. He wouldn't necessarily be going it alone; with numerous professional relationships built up over a five-year career, Haroon says there are lots of garages who'd like to outsource work to him. With plans to offer package deals such as servicing and tyres, and services like pre-MOT checks, Haroon believes he's identified a model with every chance of succeeding.
Muhammad Nawfal Rajbusseea
Yu Pods founder Muhammad began his pitch by explaining that, in the UK, only 45% of plastic waste is recycled. His business centres on plastic-free shampoo and bodywash pods that dissolve when they come into contact with water. Having identified a very precise target audience (one he says is keen to protect the planet), and with no direct competitors making similar shampoo pods, Muhammad believes his business can quickly establish itself as a market leader both at home and overseas, while helping to solve one of the world's most pressing problems.
Ben Hamilton
Belfast-based coffee professional Ben has developed what he believes is a unique brand within the coffee industry: Process. He has four specific products he's seeking funding for, all of which Ben is planning to launch this year: a speciality instant coffee, Process-branded retail coffee, a new apparel range and - what he's most excited about - a mobile coffee catering unit. All of these, he says, have a direct retail element as well as opportunity for resellers and wholesalers.
Nicholas Cave
Nicholas has launched a start-up called The London Experience Card, a community discount programme designed to help locals and tourists experience the best of London while supporting independent businesses and saving money. What makes Nicholas's platform different from others is that it doesn't just focus on one sector like restaurants or salons - if you're a member you can save money on everything from eating out and pampering to kids' activities. Further, it doesn't charge businesses any commission, which he believes is a real perk.
And the winners are…
By the judges' own admission, it was very, very hard deciding a winner. But, after 10 minutes of animated discussion, it was time to reveal the identity of the runner up, and the recipient of £7,500.
"We really liked their entrepreneurial spirit and that they're really focused on helping small businesses thrive," said Ashkan Kebriti. "We felt that this person's impact on the community would be fantastic. This person is one of our awesome drivers and their name is Nicholas Cage. Congratulations!"
And next, the winner of the £10,000 grant.
"This person is really impressive on all fronts," said Toussaint Wattinne. "There was extreme clarity as to how the grant would be used and what the immediate next steps will be. The chance of success itself was reinforced by the fact that the first samples of this product are ready. The winner is Muhammad Nawfal Rajbusseea, and we look forward to seeing Yu Pods come to life!"
We'll be following the progress of all seven finalists really closely, and especially Muhammad and Nicholas. A huge congratulations from everybody at Enterprise Nation for delivering truly inspiring pitches, and for creating such brilliant business ideas.
Enterprise Nation has helped thousands of people start and grow their businesses. Led by founder, Emma Jones CBE, Enterprise Nation connects you to the resources and expertise to help you succeed.