BLOG
Tower Hamlets Business Adaptation Project: Meet the successful applicants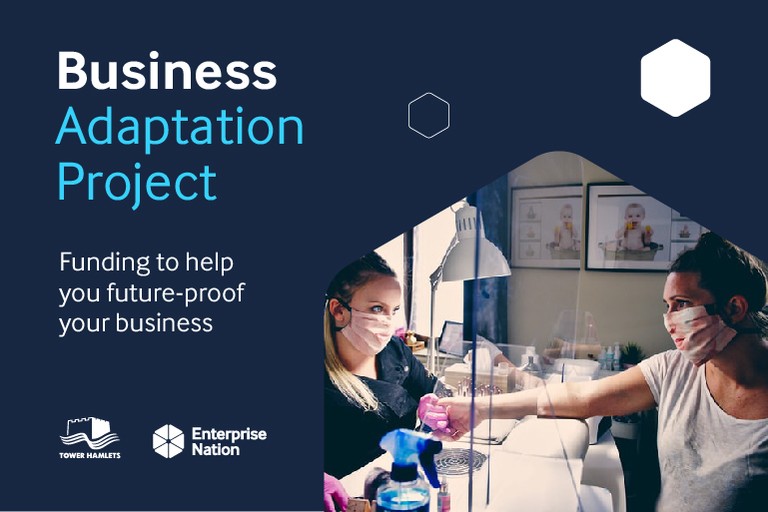 ---
Posted: Tue 24th May 2022
While every business owner hopes for smooth sailing, it's crucial that they're aware of the risks that could disrupt their business - and that they take steps to prevent them.
Enterprise Nation recently partnered with Tower Hamlets to deliver the Business Adaptation Project – a support programme designed to help 226 small businesses in the London borough to adapt to a post-pandemic business environment and safeguard their future.
We asked a few of the successful applicants to share their stories.
---
Founded in 2019, No Guilt Bakes is dedicated to offering low-carb and ketogenic sweet treats and baking mixes – with a big emphasis on flavour. "We think it's easier to adhere to a sugar free lifestyle if you don't feel like you're giving up sweet treats", explains co-founder Taeya Abdel-Majeed. "We love cakes, but couldn't find any convenient, tasty keto treats that didn't break the bank. So we decided to make our own."
With over 10,000 Instagram followers and 5-star reviews aplenty, Taeya and the team have successfully positioned themselves as the go-to low-carb treat. "With the help of a Tower Hamlets Business Adaptation Project grant we were able to afford a new, larger oven, which means we can cater for increased online sales. We also used the funds to adapt some of our recipes, as new Government regulations will restrict the promotion of products that are high in fat, sugar or salt. The grant helped pay for professional services to enable us to adapt to those requirements faster."
---
Well known for their legendary parties – Idris Elba has even DJ'd there – The Star of Bethnal Green prides itself on celebrating the weird and the wonderful, the camp and the colourful. With themed brunches, drag bingo and an upstairs karaoke room, it's a far cry from your traditional 'East End boozer'.
Owner Rob Hives applied for a Business Adaptation Project grant to replace a broken-down dishwasher in the pub's kitchen. "As well as serving traditional pub drinks, we also offer hand-made burgers, small tapas plates, meze platters, and a Sunday roast. During the pandemic we relied on our food menu to increase profits – particularly when curfews were in place and we were unable to open late. Not having a dishwasher slowed the kitchen down to the point that, during busy services, we had to stop taking orders whilst we washed and dried plates and cutlery. With the grant funding we've been able to buy a new dishwasher. It's greatly increased efficiency and speed in the kitchen, and should we ever need to close again, we will be able to provide a reliable take-away food service."
---
Located at London City Island, London Lighthouse Gallery and Studio offers a unique and exciting space for emerging artists and photographers to showcase their works and interact with other creatives in the community. Additionally, it offers an affordably-priced studio that photographers can hire for their shoots.
Sokari Higgwe applied for funding to ensure that the company could continue to trade in the face of future lockdowns. "The Business Adaptation Project enabled us to purchase new batteries to power our studio lights. If restrictions were imposed now, we'd be able to continue trading by renting out our equipment for use on outdoor, location-based shoots, without the need for electricity. This added flexibility has really helped us to safeguard our business."
---
Quarantacinque is the home of serious Italian coffee, in the heart of the East End. And for those looking for more than just a caffeine hit, they also serve fresh juices, smoothies, artisan pastries and cakes, and homemade salads.
After hearing about the Business Adaptation Project from a neighbouring business in Bethnal Green, Francesco Ragazzi applied for funding to help safeguard his café against future restrictions. "We decided to make some changes to the café to ensure that our customers felt comfortable post-pandemic. Inside the café we replaced some of our tables and chairs with a shelf and stools. And outside we were able to repaint the shop front and build a shelf that allows people to eat and drink on the pavement, rather than inside the shop. This will ensure that we're able to continue trading if ever restrictions are re-introduced. Our customers love the changes."
---
Shoots Plants are a leading specialist in the import and distribution of plants. Working with retailers, restaurants, offices and hotels they produce memorable interior and exterior landscaping.
Founder Tyler Ellis applied for funding in order to increase storage space and fight rising import and product costs related to Brexit and Covid. "We saw an increase in demand for stock during the pandemic, but with restrictions in place we weren't able to access stock from our wholesalers. Using the Business Adaptation Project grant I was able to purchase a new storage unit. Not only does this mean we can house our stock more securely, but we can also take advantage of the current relative ease of imports from the EU, and will be better prepared for any future restrictions. It's a great initiative and has helped a small company like ours become more resilient in a challenging economy."
---
The concept of restaurant quality food at low prices was what first attracted Ed Farrell to the street food scene. With a degree in Food Science and Nutrition and a stint working at a duck farm under his belt, the wannabe entrepreneur worked with some of the UK's top chefs, and drew inspiration from the USA where street food was already thriving. The Duck Truck was born.
Now an award-winning business, Ed trades predominantly in Spitalfields, but also takes his recipes on the road to various events and festivals around the country. "Lunchtime is our busiest period. We have a two-hour window to serve as many customers as possible, as fast as possible. I applied for a Business Adaptation Project grant in order to upgrade our internet and payment processing infrastructure. I was incredibly grateful that our application was approved. It's been a huge success and we can now serve customers faster, without compromising on quality."
---
Afi Akos founder, Richmond Osei-Akoto, had always felt a calling from his motherland. And it was after a return trip to Ghana in 2017 that his eyes were fully opened to the vast talent and creativity that exists there. "One of the lasting thoughts of that trip was that Ghana doesn't need our charity; it needs our business. So at Afi Akos, we work with selected designers, artists and crafters on the continent to bring the artistic creative essence of Ghana to a wider community. They create amazing clothing and accessories for our customers using only responsibly sourced materials."
Having launched his website during the peak of the pandemic, Richmond applied for a Business Adaptation Project grant to both strengthen the security of the site and to improve it's content. "With the help of a Tower Hamlets grant we've been able to upgrade our cyber security, making it safer for customers to purchase our products. We've also seen a 30% uplift in engagement and website traffic since investing in our content. It's been a huge success and I'd love to see more schemes like this to help small businesses to grow."
---
Based in Hackney and led by world-class professional dancer Connor Taylor, Adore Dance offers classes for people of all ages. Connor and his co-founder Joe Watson (also from a family of dancers and dance teachers) applied for a Business Adaptation Project grant in order to upskill their teachers to become IDTA qualified, and thus enabling them to offer high-quality dance lessons in new styles, to more people in the local area. "We're so grateful for the support", says Joe. "Having Government-recognised qualifications really positions us a leading centre for dancing training and an asset for the community. It also means we can enter our students into official examinations. We're one of the only fully accredited dance schools within a 2-3 mile radius, which really differentiates us from our competitors, and ensures that Tower Hamlets remains a destination for top learning."
---
One of the biggest challenges faced by street food vendors is undoubtedly the weather. Investing in protection against the elements is a must – but it comes at a cost. Rezaul Haque, founder of Nanizi's Kitchen, was determined to safeguard his business, whatever the weather. "Ninizi's Kitchen offers home-cooked Bangladeshi street food. It's named after my grandmother; she's my inspiration. The main reason for applying for the Business Adaptation Project was to purchase weights to help secure my gazebo in high winds. I have seen first-hand how strong winds can flip over gazebos, which is extremely dangerous for both my customers and my staff who are operating hot cooking equipment. I also wanted to purchase a gas fryer to enable me to operate more safely, as frying with oil can be extremely dangerous when it rains. I've also enrolled in the InKERBator programme, a three month accelerator programme for up and coming street food vendors."
---
With over 20 years of experience in fitness, weight-loss, health, nutrition and wellness services, Aspyr Fitness is about much more than personal training. Founder Sandy Rowe applied for funding to help transform the business from in-person training sessions to an online training platform. "The future of health and wellness is online. The only way to achieve that is by investing in quality recording and editing equipment, and by upskilling myself in how to market the business through social media. Thanks to the Business Adaptation Project I was able to afford an iPad, which allows me to deliver live sessions, and to film new content for my clients. I also film clients to show them what's happening with their bodies to reinforce what I'm teaching.It's transformed the way my clients consume information and is reducing the noise of 'influencers' who seek to sell poor quality information. Feedback has been great so far, and 50% of my clients are now online."
---
For more than 20 years, Helen New has been helping organisations to build their brands and relationships. She applied for a Business Adaptation Project grant to invest in SEO. "I may have 20 years of public relations experience, but I had no previous knowledge of Search Engine Optimisation. The funding paid for both an SEO audit of our website, and SEO training for myself and our intern. It's empowered us with knowledge we didn't have and taught us what changes we need to make to improve our online presence. We used a company called Black and White Web Design. They're SEO specialists and are also based in Tower Hamlets, and they've really helped us to combine our PR experience with up-to-date digital marketing. The programme has been a real 'win-win' for us. Signing up to Enterprise Nation also gave us access to a wealth of brilliantly focused content, all of it free and easily digestible; perfect for busy small business owners - thank you!"
---
Enterprise Nation has also partnered with London Borough of Tower Hamlets to deliver The Pivot Project. The initiative is open to businesses with up to 49 employees who were trading in Tower Hamlets before 30 June 2021 and whose business needs to adapt to a new business environment. Find full eligibility criteria and apply here.
Enterprise Nation has helped thousands of people start and grow their businesses. Led by founder, Emma Jones CBE, Enterprise Nation connects you to the resources and expertise to help you succeed.