MEMBER STORIES
The entrepreneur helping travellers capture memories of their global adventures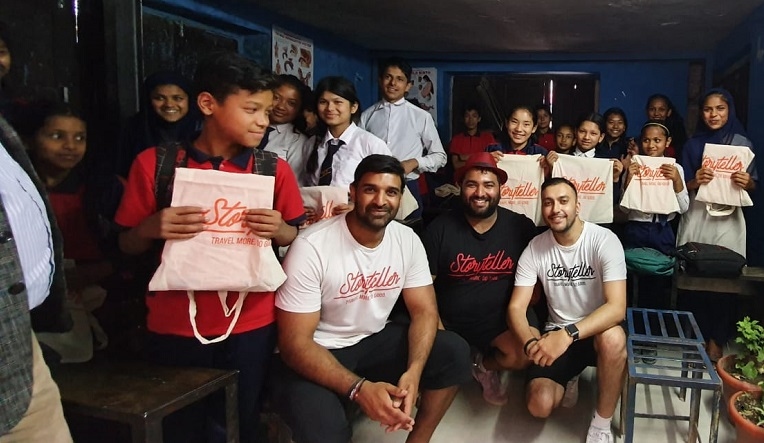 ---
Posted: Tue 13th Apr 2021
Bhavesh Patel left his career as a solicitor to launch Storyteller, a company which sells the FlagMate, a clip to which travellers can add flags to remember the places they've visited.
To boost his knowledge of expanding his business internationally, Bhavesh joined an exporting Bootcamp as part of the Amazon Small Business Accelerator. As a result, he will soon be selling his products on Amazon's online store.
The Birmingham-based entrepreneur shares his story.
The free Amazon Small Business Accelerator e-learning programme is advice from more than 30 business experts in 218 bitesize videos.  
 
If you're already an Enterprise Nation member, log-in to your learning dashboard to access the e-learning. If you're not an Enterprise Nation member, you can join the Amazon Small Business Accelerator for free here.
How did you come up with your business idea?
After travelling I would come back with amazing memories but always the same souvenirs and nothing really that was tangible where I could record my travel memories. Journals are great, but they are hard to work to maintain.
I came up with the idea for FlagMate by combining the longevity of a journal with the simplicity of a souvenir, creating the perfect way to capture our personal travel memories.
I chose to manufacture the products in my home city of Birmingham, which gave me an opportunity to give back to my local community and be a part of the process in building the product.
An important part of the product was attaching the flags to the keyring and therefore we had to make sure the hole at the top of each flag was the perfect size so that it could be connected and removed when necessary, but also was not too big that it took up a lot of the flag design! After several failed attempts, I am proud to say we finally achieved the perfect sizing.
Each flag is hand-painted and we've added a protective layer of protection on each flag to ensure long term durability.
I turned the idea into a business by incorporating the two things that I was most passionate about, the love of travel and giving back to others. My goal is to use this platform to bring like-minded travellers from around the world together to give back to those in less fortunate areas of the world.  
 
Storyteller is now an e-commerce business with a range of unique travel accessories with supporters and fans from around the world.
What start-up challenges have you faced and how have you overcome them?
The biggest challenge I faced was balancing my full-time job as a solicitor with starting the new business, which I did for almost nine months. Both were very different, but I was constantly busy and time pressured. It would get very frustrating at times as business progression would be very slow due to work commitments.
I overcame this by delegating those tasks that although I could complete, would be very time consuming and would not be of the highest quality. I invested my money into the building of the brand and website, both of which I knew would be the most important for the long-term growth of the company. This saved me a lot of time, but also allowed me to focus on the strategic growth and product development.  
 
Another challenge was having a small pot of money for marketing and how to identify where best to invest it for the best return, both from a brand recognition and sales perspective. I tested many platforms including paid social media advertising during the pre-launch period before investing more money in the areas where the return on investment was greater.
How has COVID-19 affected your business?
As many of our products are travel focused, there was an initial hit to our sales when the pandemic travel ban was confirmed. This also affected our marketing strategy as we couldn't share content on inspiring people to travel when we physically couldn't travel!
We pivoted in two ways. Firstly, by marketing products with a sentimental focus and encouraging people to use the time to reminisce and capture their amazing travel memories. Secondly, we added a product range for runners who could collect memories of their completed half marathons and marathons.
How has Amazon Small Business Accelerator Bootcamp and e-learning programme helped you?
I came to the point of needing to grow another avenue for sales, and what better route than Amazon.
Although I had read a lot of content, I wanted to learn how to create Amazon listings by taking all the relevant steps so that I could target my customers effectively and that is why I decided to join the Amazon Bootcamp.
I found the Bootcamp content very beneficial as it helped me understand more about selling products abroad, especially given the change of rules for selling into Europe post Brexit. This was really beneficial for me as I now understand the new requirements, such as labelling and hallmarking, which are needed for selling in Europe. It also helped me to broaden my vision for the business and think about selling to areas of the world and I had not thought about before.
I have also been inspired by the e-learning video content. It really helped me to understand the process for creating Amazon Listings and using sponsored advertising.
I have now set up my brand on Amazon and will soon be selling my products, initially in the UK and Europe.
Which other entrepreneurs inspire you and why?
Elon Musk is one of my biggest inspirations. Firstly, he revolutionised the way people could make payments over the internet via PayPal and now he is continuing to pave the future of electric cars with Tesla, solar power with SolarCity and private space exploration with SpaceX.
His problem-solving acumen is creating a huge impact and making the world a better place which is inspirational for me. He shows that it is possible to make the world a better place, it just takes some really hard work! 
 
I am also a huge fan of Jeff Bezos. The way he has taken Amazon from a bookstore to selling almost everything is incredible. He has turned customers into fans which is what we aspire to do.
What are your top tips for business success?
Take ownership of each setback and learn from it, rather than letting it get you down. Mistakes are good, they help you to learn.
Work with like-minded people and organisations who can help you achieve your vision. The mistake I initially made was to think I could do everything, but by focusing on areas that I was good at, and working with specialists in other areas, I was able to create incredible work and put my time towards other areas of the business.
The free Amazon Small Business Accelerator e-learning programme is advice from more than 30 business experts in 218 bitesize videos.  
 
If you're already an Enterprise Nation member, log-in to your learning dashboard to access the e-learning. If you're not an Enterprise Nation member, you can join the Amazon Small Business Accelerator for free here.
Founder of a UK based start-up, Storyteller. We build travel accessories, whilst using a share of its profits to fund and run educational programmes in underprivileged areas of the world. To do this, we have partnered with like-minded charities which include UNICEF NextGen (UK), The Barefoot College and Global Citizen. Our work has helped us win Social Entrepreneurs of the Year 2020. Our award winning products can be found at https://www.storytellertravel.co.uk/ Along side this company, I also practice part time as a Solicitor.