MEMBER STORIES
Beth Jordan: 'You have a mission and vision, but who will be there to support you?'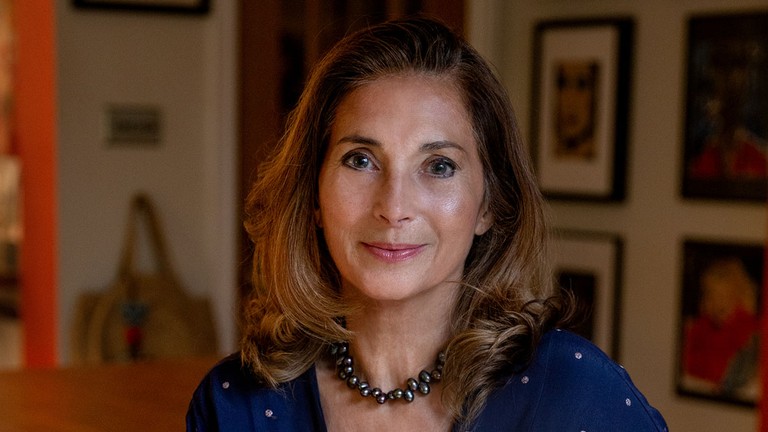 ---
Posted: Tue 15th Jun 2021
Enterprise Nation adviser member Beth Jordan is the epitome of a small business success story. After 35 years running her own enterprise – which saw her travel the world and win orders with the likes of Harvey Nichols and Selfridges – she's now sharing her wisdom with a new generation of entrepreneurs.
We caught up with Beth to talk the glory years of the 1980s, being flexible in the face of crises, and how she's helping Enterprise Nation small business members achieve their ambitions.
Beth, I know from your recent Lunch and Learn that your business journey is incredibly interesting. Can you tell us more?
It all began in the 1980s – what I call the golden years of business, especially for anybody who had absolutely no money. It was possible to say to your friendly local bank manager: 'I have this idea. I need a little bit of money. I've already got an order to cover it.' That's basically how it started for me.
I got into business via antiques – by designing garments from antique textiles. I found one specific product I really loved. I discovered it as a volume product in Italy, which the Italians said they made but which actually came from China. It was a very old style of lace.
My first consignment came from telexing the Chinese manufacturer and asking: 'Do you have this?' They said: 'Yes, 14 boxes.' Later, I got in touch with an antiques business in London – he came to my house and bought the whole lot. I paid the bank back straightaway, and I had money left over.
I produced a brand, filled a gap in the market and created a vision, and through trade fairs won clients in America, Europe and almost every major buyer in the UK.
You've always remained a small business, right?
Yes, because I didn't know how to do it any differently. I've lived through five or six recessions and survived them all. Being a small company, I was extremely flexible.
I hardly ever owed the bank money. I've never taken on anything that I knew I couldn't pay back. There have been failures, but by being a little fish in the water and swimming in and out, I've been able to manoeuvre very quickly out of challenging situations. I've been doing this for 35 years.
What's the status of the business now?
Brexit was unfortunately the beginning of its demise. We lost a lot of money because the dollar crashed, and we import in dollars. Somehow I managed to continue, but I was beginning to feel that I'd done this for long enough.
The pandemic was absolutely the writing on the wall. I did, however, use my China connections to win an order with the NHS, supplying FFP2 face masks. In a way, it was quite bittersweet to secure such a large order at the end of my career.
And now you're transitioning to becoming a business coach?
By chance I received a marketing email about coaching. I did a two-day foundation course and it really resonated with me – I think it was the intimacy of working with people. I was drawn to their dreams and ambitions, because this is a road I've been down. Having had so many experiences in business, I knew I could be there for people.
I was looking for a platform to engage with, which is how I came across Enterprise Nation. They were looking for advisers, so it seemed like the best place to start.
Before long I had a young lady come to me saying that she wanted to start a business in towels. It was interesting timing because I had recently been to India and found these fabulous towels, which I was interested in importing. The pandemic put a halt to that.
She wanted to know where to start with manufacturing and how to get the designs in her head on paper. She knew her market, but she needed help with marketing.
After looking at what she wanted, I started doing my own research on how big the towel market in the UK is. Who are the main players? What kind of fabrics do they do? Who do they sell to? Do they do stock or are they manufacturers? Who are producing towels ecologically?
How did you package this as a service?
I sent her three project wheels on the production, the marketing and branding, and the wellness sides of her business – the last one concentrating on how to look after yourself while running a company.
We're breaking this down into three meetings. The first is about product – fibre, care, quality and packaging. The next one's on marketing – how are you going to market your product? Who's your audience? Where will you find them? Are you going to sell online, or go down the wholesale route? Do you have the money to hold stock?
The final one's going to be on guarding yourself. You have a mission and vision, but who will be there to support you? Who are the people who will wear the different hats? You can't wear all of them.
One of the things I learned is that I didn't delegate when I was starting out. I thought I could do it all.
Become an Enterprise Nation adviser
Do you have small business expertise to share? Become an Enterprise Nation adviser member to engage with small business owners looking for specialist guidance.
Enterprise Nation has helped thousands of people start and grow their businesses. Led by founder, Emma Jones CBE, Enterprise Nation connects you to the resources and expertise to help you succeed.