MEMBER STORIES
Andy Adenegan: 'The Donut Man' on finding his inner entrepreneur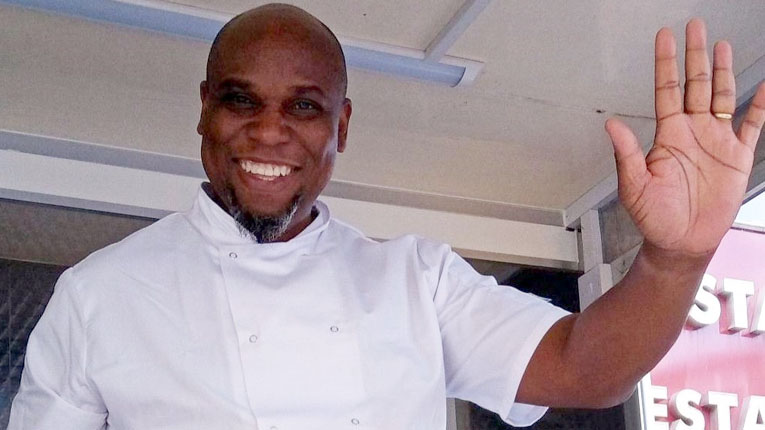 ---
Posted: Tue 20th Apr 2021
Affectionately nicknamed 'The Donut Man', Andy Adenegan has been putting smiles on the faces of his east London regulars since 1996.
 
Combining his business flare with a passion for food, Andy's entrepreneurial journey has been a rollercoaster of highs and lows.
After suffering a setback at the hands of the Great Recession of 2008, Andy was determined not to let the same thing happen when Covid hit last year. We caught up with Andy as he prepares to elevate The Candi Donut Company to the next level - and far beyond the reach of the Bow Bells.
Andy, you've been in business now for a quarter century. Not many people can say that. Take me back to where it all began…
"I was working in retail management in the early 90s when I first discovered my inner entrepreneur. I'd always been a free spirit and knew deep down that sitting behind a desk wasn't for me. I felt like I was underachieving and underpaid. My father always told me that 'job' stands for 'just over broke'.
"So in 1994 I took a leap of faith. I quit my job and started a wholesale food delivery business, supplying ethnic foods to seven London borough councils. Business was OK, but I was losing the cashflow battle against late and slow payments.
"One day I was driving along and saw a man selling Brazilian churros - a sweet, fried doughy snack. I'd never seen them before, but they reminded me of a delicious treat that I'd had as a child in Nigeria. That was my 'eureka moment'. I'd actually retrained as a baker after university, so it just seemed like all roads had led me to that point. It was time to try something new: donuts!"
Donuts were quite clearly your destiny. So how did you go from this moment of serendipity to launching The Candi Donut Company?
"I believe it was divine intervention. Of course, nobody in the UK really knew of churros back then, so it wasn't going to be easy. I felt like a pioneer.
"Obviously having a passion and an idea is nothing if you don't have the financial means to get started. And I wasn't able to get funding from a bank. So I had to borrow money from my wife to purchase my first, specially fitted mobile trailer. It was from here that I put my unique spin on the churro. I perfected my vegan dough recipe and developed a range of sumptuous, rich fillings, such as Kreme Caramel, Bavarian Chocolate, Strawberry Coulis and Vanilla Custard. The Candi Donut was born.
"That's when I started trading at Roman Road Market. Just as I suspected, people loved them. I started to get regular pitches at other street markets around east London, as well as festivals, outdoor events and shopping malls too. I catered for concerts at the Ally Pally, and was invited to fireworks displays around London, selling my warming sugary snacks to freezing cold revellers.
"It was a hard slog. We had two young daughters at the time so I had to work long nights and weekends to support them. But I persevered. Within the first few years I developed an amazing, loyal customer base and was able to start scaling my business. In 2005, I pivoted to start selling DIY donut machines to my customers. I sold over 1,000 of them.
"Things were going well. Between 2006 and 2007 I rebranded, bought two new trailers and even took on a few members of staff. And then BANG - the recession hit."
That must've been a tough pill to swallow. At the time it was reported that hundreds of UK small businesses closed each week. Did you stop trading?
"Not entirely. But I had to scale back massively. I continued to sell my donuts on weekends, but I was forced to seek full-time employment to pay the bills. I worked as the London regional manager for the Trussell Trust Food Bank.
"By the time I left I'd helped grow their network to the point that there was at least one food bank in every borough. I was proud of my work, but my entrepreneurial flame was still burning. So in 2012, I decided to start selling donuts full time again. I've not looked back.
"We've grown year on year ever since. Well, until last year of course. Covid presented new challenges and, like so many other small businesses, we took another huge hit. Our sales tumbled as markets and outdoor events ceased. But this time around, rather than scale back, I decided to pivot my business once again."
We've heard that word a lot over the past year. What was your 'pivot'?
"Throughout the first lockdown my regular customers bombarded me with calls, asking for delivery. It was clear that there was still a huge demand for my product. Delivery seemed like the logical next step.
"So I made the decision to start selling Candi Donut licences to budding donut-preneurs. It's essentially a 'business in a box' - a starter package containing everything they need to start their own donut adventure. They get our unique equipment and supplies - as well as all the marketing materials they need to promote their business. Oh, and they get me. For a small consultancy fee I'll work with them at every step of their journey providing complete operational knowhow.
"There's been a huge increase in the number of people looking to start their own business since the pandemic began and people see my starter package as an inexpensive way to take that plunge. For just £995 they get to piggyback on my success and be a part of a well-established brand.
"I applied for a Tower Hamlets Pivot Project grant through Enterprise Nation. With the money I've been able to work with a specialist IT solutions company to upgrade my website and start selling my business packages online. They've also helped me gain control of my social media. The signs are positive. So far I've sold five licenses, and have lots of interest from others too - I'm thrilled."
You're right that there's been a huge increase in people wanting to work for themselves since the start of the pandemic. What would your advice be to anyone who's still too scared to make that leap?
"Take chances. Although Covid was a threat, it also exposed some great opportunities for Candi Donuts - and I've grabbed them with both hands. Start as a side hustle if necessary. I didn't, but in hindsight I probably should have as it was tough making ends meet without a steady salary coming in. Persevere, ask for help, be hungry. Above all else, believe in your dreams and find a way to make it a reality."
It sounds like we'll be seeing lots more of Candi Donuts in the future.
"The dream is that one day every town will have a Candi Donut licensee, delivering my recipes to homes across the country. So I'll be working hard to scale up that side of the business. I'm also looking to partner with Uber Eats, Deliveroo and Just Eat - and offering a delivery template to all of our licensees.
"I'm exploring other avenues too. Just yesterday I met with a company who own 10 restaurants. They're interested in selling my products, so watch this space.
  
And of course, I'll be out and about selling donuts myself. The plan is to find a permanent space in east London so that my regular customers can still get their donut fix. I just love people, and I love to see their faces when they taste my hot, fresh goodies. It doesn't matter what people say about healthy eating, once you've had a Candi Donut, you'll work it into your diet plan somehow." 
 
Are you a business owner operating in the food and drink industry? Join this group to connect with like-minded entrepreneurs.
Enterprise Nation has helped thousands of people start and grow their businesses. Led by founder, Emma Jones CBE, Enterprise Nation connects you to the resources and expertise to help you succeed.