BUSINESS NEWS
Amazon Small Business Accelerator: E-learning is live!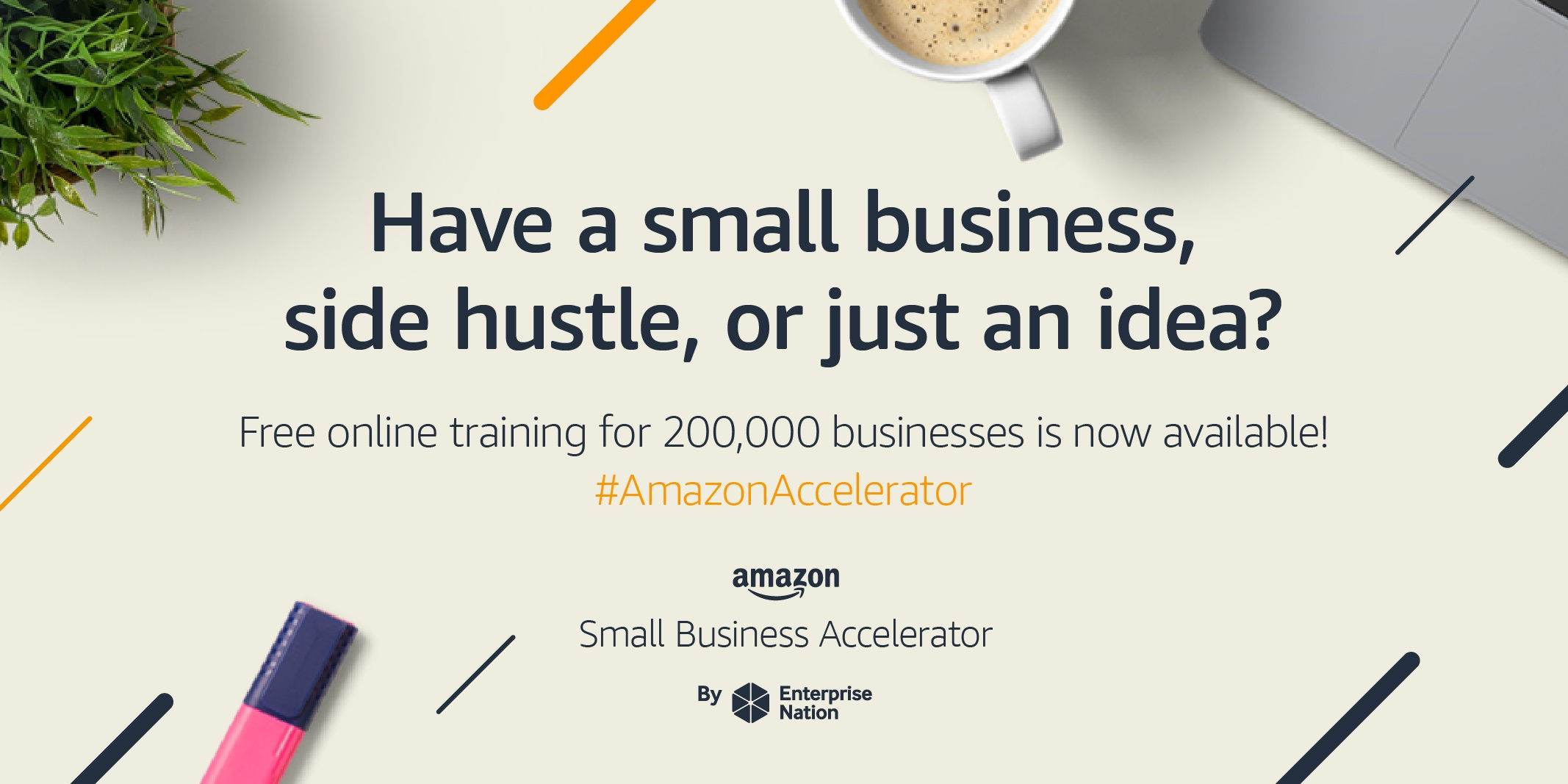 ---
Posted: Mon 20th Jul 2020
Today we are excited to launch a comprehensive new e-learning programme as part of the Amazon Small Business Accelerator.
The exclusive training equips start-ups and growing businesses with 16 hours of free online learning to boost the business capabilities of entrepreneurial individuals and Britain's small firms.
The e-learning is tailored to those starting out on an enterprise adventure, as well as people who want to go for growth with an existing business.
In 39 advice packed modules, more than 30 business experts share top tips covering everything from social media and funding to making sales and human resources.
The three learning paths, that include relevant support based on stage of business, are:
Start: Designed for people right at the beginning of their start-up journey, covering the basics from how to register your company, to how to build a website and get customers.

Grow: Aimed at companies that are already established but want to push beyond the start-up stage and grow.

Turbo: Developed for company founders that have already experienced expansion but want to rapidly accelerate their business to the next level.
Here are just four of the many experts taking part in the programme and some of the advice they share:
Facebook advertising tips from Henry Marshall, founder of SilverTip Digital
To understand your return on ad spend (ROAS), make sure you have your Facebook Pixel fully implemented to work out the profitability of your campaigns.
Ensure your campaign bid strategy is set up to achieve your campaign objectives - this will impact the cost of your activity. Sometimes a mix of strategies works best when considering your marketing funnel.
Consider using different types of creative that you can test against each other and add UTM tracking codes to each of your links so that you can verify campaign performance in Google Analytics.
Instagram tips from Lucy Hall, founder of Avviso Media
It's important to test and learn. Try different hashtags with the right photos and content and you'll start to see what works. Have a content calendar and make a note of what's working and then do more of that.
Creating posts that ask people questions, rather than talking about yourself, will help encourage them to comment. You need to add relatable content too and make sure people know what value they're getting from interacting with your account, said Lucy.
Think about consistency and how you can make sure you post regularly enough. It could be once every two weeks. If you have a business account, you can look at Instagram's Insights and see what times work best.
Raising finance via a business angel tips from Jenny Tooth MBE, CEO of UK Business Angels Association
When pitching an angel investor for funding, you often don't have much time so you've got to do your preparation very carefully and very well.
Think like an investor when preparing your pitch and be realistic about your funding request.
You should also be honest about your achievements and you must know your numbers!
In addition, think about what help you need from the investor as well as money and don't give away too much equity.
Balancing your business tips from Emma Jones MBE, founder of Enterprise Nation
As a start-up, you're likely wearing all the hats so try and find balance in the business and in your own life by boxing up time and managing three key areas; business development, operations and company admin.
Business development is the time you spend on attracting new customers and ensuring current customer remain happy.
Operations is the time spent on ensuring products or services are being well made, your team is happy and you are keeping in touch as much as possible with new innovations and practices in your sector.
Company admin is all about making sure you're getting paid on time, that you're paying suppliers promptly and that any official accounts are being submitted.
Other features of the Amazon Small Business Accelerator
The Amazon Small Business Accelerator includes an online diagnostic for participants to find the learning path that best fits with their stage of business as well as discounts and offers on business supplies, training and services from Amazon and other partners.  
 
Amazon and Enterprise Nation are also running week-long bootcamps to provide additional, tailored personal training and expertise for up to 1,000 mostly offline start-ups and small businesses to help them trade online.
**If you haven't yet signed up to the Amazon Small Business Accelerator, you can do so here. If you've already registered, log in to your account and go to your member dashboard to access the e-learning and other aspects of the Accelerator.
**
Enterprise Nation has helped thousands of people start and grow their businesses. Led by founder, Emma Jones CBE, Enterprise Nation connects you to the resources and expertise to help you succeed.