BUSINESS NEWS
Almost half of the UK's self-employed workers are now aged over 50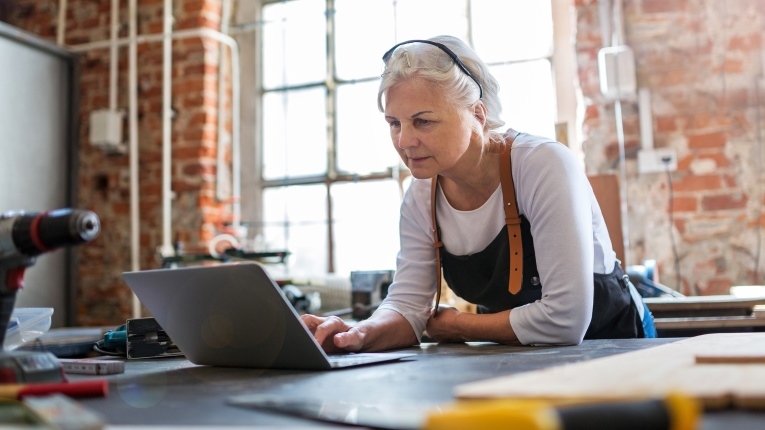 ---
Posted: Fri 2nd Aug 2019
The number of over 50s working for themselves accounted for 46% of the UK's total self-employed workforce in the first three months of 2019, new research reveals.
Rest Less, an advice website for the over 50s, analysed data from the Office of National Statistics and found 2.27m people over 50 are self-employed compated to 1.45m in 2009, an increase of 57%.
The total number of self-employed individuals has increased from 3.85m to 4.92m in the last 10 years. Of that 1.1m rise, 820,000 is amongst those over 50 - nearly 4 in 5 or 77%.
The research also found that 19% of the current self-employed workforce is over 60 with the number of over 60s who work for themselves increasing from 579,000 in 2009 to 949,000 in 2019.
Stuart Lewis, founder of Rest Less, said: "Many people in their 50s and 60s can feel left behind and ignored from the workforce due to their age. For those who have had to take time out of their careers, perhaps to look after grandchildren or an elderly relative, it can be much harder than it should be to open doors back into the workplace.
"Sadly, with age discrimination still alive and well, we are seeing more and more over 50s finding they have no choice but to venture into the world of self-employment to make ends meet.
"Thankfully, it's not all doom and gloom with many well funded boomers choosing to set up their own businesses for the love of doing so, whether consulting, a passion project or to be the next success story on Dragons' Den."
Patrick Thomson from Centre for Ageing Better added:: "While self-employment can be a great option for many people in the later part of their working lives, particularly because of the flexibility it offers, self-employed people risk missing out on some of the key benefits of working for an employer, such as employer pension contributions, support for a health condition or carers leave.
"Official statistics show that 45% of self-employed people aged 35 to 54 have no private pension wealth. It is crucial then that people in this position plan and prepare for how their circumstances might change in later life."
I'm a freelance content creator and event host who helps small businesses and the organisations that support them. I have 18 years of experience as a small business journalist having interviewed hundreds of entrepreneurs from billionaires like Sir Richard Branson to the founders behind brand new start-ups. I've worked for a range of leading small business publications and support groups, most recently as head of content at Enterprise Nation where I was responsible for the prolific output of content on the company's blog and social media. I'm based in Bristol where I run and host regular events with the local small business community and have strong connections to major business organisations in the south west region. In total, I've hosted over 50 events; from intimate meet-ups to conferences with an audience of hundreds including events for international brands like Facebook and Xero. I'm also a big fan of podcasts having hosted Enterprise Nation's Small Business Sessions as well as lots of online events including Facebook Live interviews, webinars and three live web chats from inside 10 Downing Street. With my partner, I co-run Lifestyle District, a lifestyle blog focused on culture, art, theatre and photography. I'm here to help. I'm volunteering free advice calls of up to an hour as part of the Recovery Advice for Business scheme, over the next 6 months. Please get in touch to see how I can help your business.