BLOG
How affordable card readers are transforming small businesses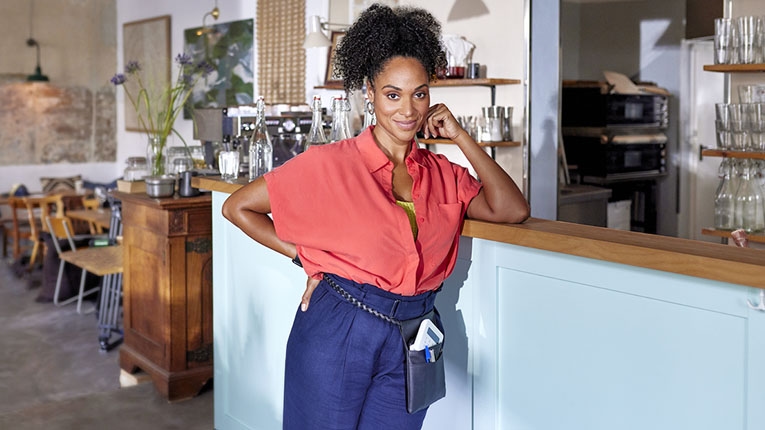 ---
Posted: Thu 22nd Apr 2021
"Sorry - it's cash only."
As customers, we've all been on the receiving end of these dreaded words at some point. Cue the walk of shame to the nearest cash machine…
Luckily, things are changing. Nowadays, nearly all small businesses have a credit card machine on hand, and there are plenty of simple and affordable solutions out there.
Here's why taking card payments is a really good idea - and why getting your hands on a great card reader is much easier than you might think.
Is cash still king?
For some customers, cash is still the number one way to pay. And if you don't take cards at the moment, your regulars probably know that, so they'll always come prepared. But that only covers a fraction of the people who might pass through your doors each day. So what about everyone else?
Card payments are on the rise across all age groups, and the majority of people now prefer a quick tap of their card to counting out cash. Most shoppers have replaced a pocket full of change with a single contactless card, or even a smartphone or watch with contactless payment.
As shops in the UK prepare to reopen and you get ready to welcome actual, real-life customers again (remember them?), now is a great time to make sure that you're set up to take card payments.
Big names, big bills
If you've thought about taking card payments in the past, you most likely looked into your options with one of the big-name providers.
But these providers aren't set up to work with small businesses, so you probably didn't like what you saw. We get it. Reams of seemingly never-ending paperwork? No thanks. You've got plenty to do already.
Maybe it was the binding contract that put you off. Small businesses need flexibility, so complex terms and conditions that tie you in are a big no-no.
Or was it just the enormous fees? Yet another reason to stick with cash. Your small business needs an affordable solution so that you can grow and stay profitable.
Affordable card readers
Whatever the turn-off was - and, let's face it, there are a lot of them - we've got good news for you: you can take payment by card without worrying about any of these things. 
Affordable card readers are designed for small businesses like yours, so you get all of the flexibility of card payments with none of the hassle.
The best card machine for small businesses
Choosing the right card reader for your business can seem like a big decision. But affordable card readers like SumUp Air and SumUp 3G make it easy for you to take card payments. 
SumUp designed its card readers with small businesses in mind. There's no fixed contract, no paperwork to sign and no monthly costs. All you pay is a low fee of 1.69% for each transaction.
Here's the low-down on your options:
SumUp Air
The SumUp Air card reader is perfect for small shops, taxi drivers, salons and barbers. It works with the free SumUp app and connects to your smartphone or tablet via Bluetooth, so that you can get paid wherever you are.
SumUp 3G
The SumUp 3G card reader is a standalone device that is ideal for retailers, cafes and restaurants, or any business on the go. It comes with a built-in SIM card with unlimited free data or wi-fi, so you don't need your smartphone to get paid.
Both card readers work with chip and PIN and contactless technology, so your customers can pay you using their credit card, debit card or smart device.
More than just a card machine
SumUp's card readers work with the SumUp app and your SumUp account (and guess what - they're both free). When you get your card reader, you'll need to run through a quick and easy setup process in the SumUp app.
From the app, you can access a whole load of other great features that will help keep your business running smoothly - from payment links and invoices for remote card payments to management tools like the product catalogue and reports.
Why should I take card payments?
Imagine yourself as a customer again for a moment. You've nailed the shopping and you're feeling pretty darn pleased with yourself. But you've just been told that the shop is cash only - and you were planning on using your card.
This is where things can get a little awkward. You have to decide what to do on the spot. You might be in a rush, and you won't have factored a mad dash to the nearest cash point into your trip to the shops. And if you can't find a cash machine, you'll probably have to abandon your haul entirely and go elsewhere.
Now imagine how different you'd feel if, instead of beating a hasty retreat, you could just tap your card as planned.
The friendly conversation flows between you and the owner, who has a chance to tell you about the new brand behind that thoughtful gift you're buying for a friend, or to compliment you on your (obviously impeccable) taste in wine.
In the bag
The upshot is this: whatever they're buying, customers who leave your shop feeling positive and valued are much more likely to come back. And they'll probably want to tell all their friends how great you are, too.
So give your customers the option to pay how they want - because more happy customers out equals more happy customers in.
Take your business to the next level
If you want to level up in your small business, getting your hands on an affordable card reader is a quick and simple way to do it.
With SumUp, giving your customers more ways to pay is easy. Unlike with the big providers, there's:
No contract to sign

No paperwork

No hassle
Get ready to welcome back customers old and new - however they want to pay.
Discover how we help small businesses do big things. Find out more.