ANNOUNCEMENTS
Enterprise Nation Adviser Awards 2022: Meet the winners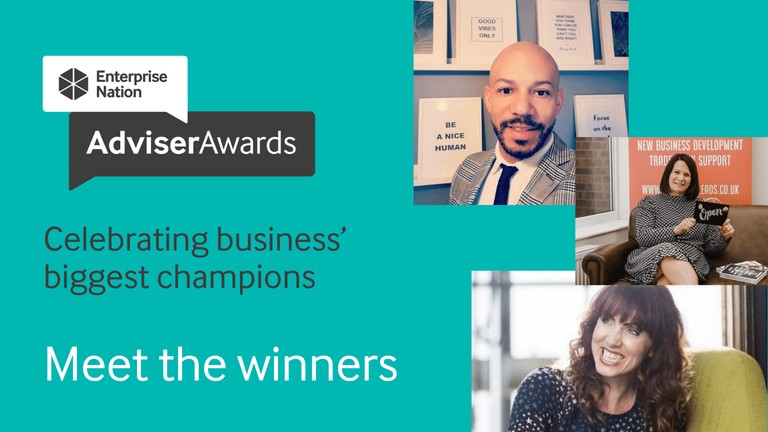 ---
Posted: Fri 25th Nov 2022
Over the last few months, small business owners across the land have been voting for the best and brightest business advisers.
Never before has the role of an adviser been so important. The last few years have been some of the most challenging in history for small businesses. But thanks to the work done these amazing individuals have done behind the scenes, many small businesses have been able to weather the storm.
Over the last five days, we've crowned the best of the best across 10 categories. And now we're delighted to present to you all of our amazing winners.
PR and content
Victoria Brown: Victoria Brown / Creative Slurp
Victoria helps business owners to face their fear of writing, find their voice, stand out from the crowd – and sell more. Super passionate about small businesses, Victoria is also an Enterprise Nation Local Leader.
A client of Victoria's said:
"Victoria is just so knowledgeable. Thanks to her I've discovered my own unique tone of voice and been able to attract more of the right people to my business."
Victoria:
"Woohoo! I won! Thank you so much to Enterprise Nation and to everyone that voted. I'm so, so grateful – and humbled to win among such amazing co-nominees. Now, is it OK to open a bottle of champagne on a Monday morning?"
Coaching and mentoring
As a qualified behavioural coach, Roo helps business leaders and professionals gain clarity, shift their mindset, find their purpose, and take their business to the next level.
A client of Roo's said:
"Without Roo, my business would not be where it is now. She gives me the confidence to make the decisions I need to move my business forward."
Roo:
"Yay!!! Thank you so much. I am delighted and feel very privileged to receive this accolade. And what brilliant company I am in with the fellow nominees."
Social media and PPC
Natalie Sherman: Naturally Social
Natalie is driven by the pursuit of social good – and good social media. She's poured her expertise into hundreds of businesses and charities, creating results they can actually look at, measure and appreciate the impact of. She's also a proud #SheMeansBusiness trainer.
A client of Natalie's said:
"There's nothing that Natalie doesn't know about social media – or how to use it to grow your business."
Natalie:
"Thank you to everyone for your support! I'm over the moon to have won."
Sustainability
With a background in both HR and horticulture, Sarah believes that putting sustainability at the heart of your business will increase revenue, drive staff retention, and reduce risk.
A client of Sarah's said:
"Sarah's workshops are amazing – and fun! She's taught us so much and we always come away with actionable insights."
Sarah:
"What a fabulous surprise! Thanks to everyone who voted for us and to all the team at Enterprise Nation. It has been great working on Plan it with Purpose over the last few months."
People (HR and wellbeing)
Olly helps business owners and entrepreneurs to develop their leadership skills, self-awareness and confidence, enabling them to live happier, healthier, smarter and kinder lives.
A client of Olly's said:
"You can't truly understand Olly until you have experienced his company and wisdom. He is so generous with his time and speaks to you in a way that enriches your day."
Olly:
"I'm absolutely gobsmacked! I'm extremely proud to support business owners to grow, develop and flourish, and I want to extend my gratitude to the other incredible advisers that were listed; you're doing an incredible job."
Marketing strategy
Victoria Prince: Touchpoints Marketing
Victoria works with business owners who have big ambitions. Allowing them to focus on what they do best, she takes care of creating a clear marketing strategy that will help them to achieve their dreams faster.
A client of Victoria's said:
"Victoria goes above and beyond. She takes time to really understand your business goals, allowing you to navigate your way through tricky waters."
Victoria:
"Golly gosh, I nearly fell off my chair. I can't quite believe it. Such a strong category; I'm honoured to be alongside such an awesome crowd of marketers."
Sales
Leisa Pickles: Find Me The Leads
Champion of all things independent, Leisa helps food and drink brands get their products into more places and in front of more people. Nottinghamshire-based Leisa is also a proud Enterprise Nation Local Leader.
A client of Leisa's said:
"Working with Leisa has transformed my business, generating leads that I'd otherwise not have identified."
Leisa:
"OMG!! I've just done the happy dance around my office while drinking coffee and eating cake!! Thank you soooo much to everyone that voted."
Finance and accounting
Hatty Fawcett: Focused For Business
Hatty works with start-ups and small business owners to give them the clarity, connections and confidence to attract the right investors for their business – and has helped raise over £4 million for her clients over the last 12 months.
A client of Hatty's said:
"Before meeting Hatty I didn't understand my business potential – or my financials. Now I do!"
Hatty:
"I'm really chuffed and very humbled. I love what I do. Seeing the difference funding makes to all the hard working, vision-led founders who want to make a difference in the world is reward enough for me."
Legal
Dids MacDonald OBE: Anti Copying in Design (ACID)
As a successful product designer, Dids often found that her designs were copied by larger companies. On a mission to help David fight Goliath, Dids co-founded ACID in 1996 – and now represents thousands of designers within the creative industries.
A client of Dids' said:
"Dids is, quite simply, an inspiration. The work she has done to protect designers from copycats cannot be underestimated."
Dids:
"I am honoured and thrilled - and will be delighted to use every opportunity to extend our support to those who need IP advice."
International trade
Margaret Bourke - Department for International Trade
As an experienced international trade advisor, and having helped countless clients to plan, market and grow their businesses globally, Margaret is the go-to person for all your export and international trade concerns.
A client of Margaret's said:
"Margaret is just incredible. Her support and guidance have really helped my business to grow – and she is always a superb sounding board."
---
Congratulations to all winners and nominees! It's been another truly wonderful year for the Enterprise Nation adviser community.
If you possess skills and experience that the UK's small business community would find valuable, sign up as an adviser today.
Enterprise Nation has helped thousands of people start and grow their businesses. Led by founder, Emma Jones CBE, Enterprise Nation connects you to the resources and expertise to help you succeed.