MEMBER STORIES
A day in the life of an Enterprise Nation member: Land & Tide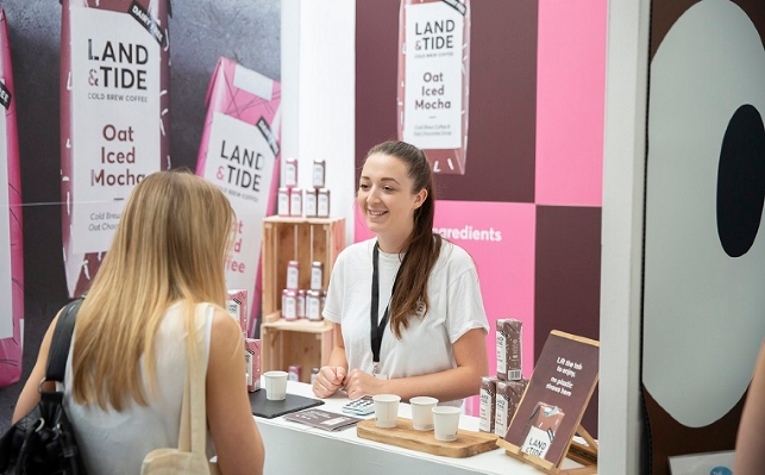 ---
Posted: Fri 30th Aug 2019
Land & Tide was founded by Amber Kavaliauskas in 2018 after the frustration of not being able to find dairy free iced coffees without some kind of compromise. Today, the company makes deliciously simple cold brew iced coffees with just three or four ingredients and no added sugar.  The Enterprise Nation member shares some insights.
My alarm goes off…
My alarm goes off at 7.30am and normally wake up after I've snoozed it!
My morning rituals are…
Wake up, shower, grab a coffee to go and either head out the door or head to my desk. I normally eat my breakfast at my desk, as I'm not much of a morning person.
My morning commute is …
I work in central London three days a week and at home the rest of the week. So those three days are a drive to the station and then a short Tube ride to Baker Street. The rest of the days are a short walk from bed to my desk, via the coffee machine!
My typical day…
Each day is different. Most of them involve emails of some kind! I always have set to do lists to keep focus, but these can grow or adapt just like our business does. The most exciting days include pitching to potential stockists or running the stand at an event and the most boring days can include filing a tax return, packing parcels or setting down the stand at an event.
My responsibilities are…
I run the business on my own, so my key roles are pretty much everything. I'm responsible for the entire brand.
My most memorable moment is…
Pitching to Ocado at an event and then being invited back for a meeting, only to get then listed. This was all within a couple of months of launching. This was the best moment of my career.
Why I love my business…
I love building and creating something that I am so passionate about and seeing the reactions of people's faces when they try my products. I also love being responsible and accountable for my own success. When you work so hard for something and it's only yourself that's holding you back, it's an incredibly empowering and rewarding job.
The most challenging task is …
Accounting is probably the most difficult task in the business. Without my accountant I would be completely lost as it's a minefield to me.
After work…
I coach and play netball three times a week so this is a big part of my life outside of my business. It's the only place I really switch off completely and let off much needed stress.
When I grew up I wanted to be…
I wanted to be a vet, then I realised I hated blood! As I started to grow up I always knew I wanted to work for myself. I was ambitious from a young age and was always coming up with crazy ideas.
We're proud to have entrepreneurs like Amber as members. Join Enterprise Nation and become part of an amazing community of small businesses.