BLOG
10 advisers on Enterprise Nation who will help you write a winning business plan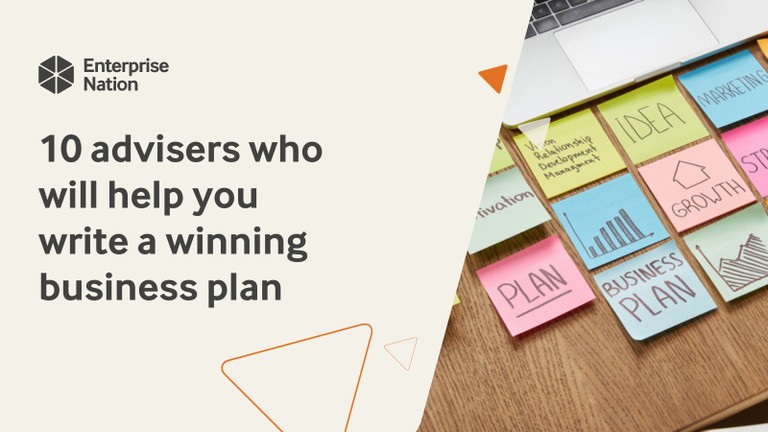 ---
Posted: Sun 20th Feb 2022
Starting a business isn't just about opening your doors or launching your website. From registering your company to crafting a marketing strategy, there's lots to consider. Which is why, regardless of what sort of business you're launching, writing a business plan is vital.
Your business plan is your road map; a document that explains what your business is, what the short-term and long-term objectives of the business are, and how exactly you'll achieve those goals. As the old saying goes; "If you fail to plan, you are planning to fail."
Enterprise Nation has recently launched a diagnostic tool - Make a Plan - that allows business owners to assess exactly what support they need, fast.
48% of users told us that they're yet to write their business plan (or are currently in the process of writing it). Are you one of those people? If so, you're in luck! Here's ten advisers that you can connect with on Enterprise Nation who will help you create a winning business plan.
---
Michael Grimsdale
Driven by the desire to help people build their creative or business visions, Michael Grimsdale believes that anyone with a great business idea should have the opportunity to bring it to life. He knows that, with the right support and guidance, everyone can achieve goals they might have thought impossible on their own. "During the last 20 years I have built up a vast range of knowledge and connections to help business owners to plan and strategise. I take time to make sure that you learn along the way."
Book a discovery call with Michael.
Chris Dowling
Regardless of your stage of business, Chris Dowling will help you to see the wood for the trees. With over 30 years of business experience, and as a director of the Association of Business Mentors, Chris has seen and worked on hundreds of business plans. "Both start-ups and existing businesses require a good business plan. I'll provide you with the template, help you define your business goals, fine-tune your plans, and ensure that you have the knowledge, skills and processes needed to achieve your objectives. I'll be your 'sounding board' and help take your business to the next level."
Book a discovery call with Chris.
Katie Sheach
Do you ever sit there and think 'I wish I had someone that gets it. Someone that can guide me and tell me if I'm making the right choices. Someone that genuinely cares about the success of my business and someone I can vent to when days get difficult'? That someone could be Katie Sheach. "I am your in-pocket business consultant. Your problem solver. Your accountability buddy, coach, cheerleader, and virtual shoulder to cry on. I combine my 10+ years of industry experience with my personality, humour and northern charm to be everything you need."
Book a discovery call with Katie.
Simon Rigby
Simon has started, grown, bought, and sold businesses for over 40 years. He knows what works and what doesn't – and what support a business owner needs. Simon offers practical, 'nuts and bolts' advice and strategies that can be implemented straight away. "Lets get going and move your business forward today! We start with the long term plan and work backwards, setting weekly tasks to achieve those long term goals. This gives you clarity and focus, and reduces procrastination."
Book a discovery call with Simon.
Paul Clayton
Paul Clayton is a business improvement consultant (he's also Enterprise Nation's Local Leader in Lincolnshire). Paul partners with small business owners and managers to increase their chances of success. With over 20 years of experience, Paul understands your challenges and can help you to achieve your goals and aspirations. "Working together I will help you to find, attract and gain new customers, whilst boosting profitability & sales. Help me to understand you business with a no-obligation discovery call."
Book a discovery call with Paul.

Daniella Wainwright
Are you looking to grow and improve the profitability of your business? Do you want to create a clear strategy for your future plans or growth? Would you like to gain a true understanding of what the numbers are showing you? Daniella Wainwright will work with you to create a timeline and set realistic goals so that you know what your next steps look like. "We'll run the numbers together to make sure that you are on target for your definition of success. Make a start towards financial clarity today."
Book a discovery call with Daniella.
Daniel Sims
Daniel is a specialist and entrepreneur in the retail and merchanting sector, having set up and successfully managed a number of businesses both for himself and for other organisations. He has a wealth of experience in leading small businesses, and loves to give his clients the benefit of his know-how. Daniel offers a no-obligation business health check and tailored consultancy services. "Business planning is essential to keep you and your company driving forward and not getting lost along the way. Whether your organisation is just starting, a fledging or ready to grow - you need a plan. Together we can write an achievable and cost-effective plan for sustained growth and profitability."
Book a discovery call with Daniel.
Liz Smith
From admin support to marketing, website development to business strategy, Liz' team offers a wide range of support services for small and microbusinesses.
"Our flexible approach means our clients can access the exact level of service they need for their business, whether they are just starting out or are well established. We promise not to bombard you with jargon, and we will offer you a great service at a fair price."
Book a discovery call with Liz.
Anastasis Mouktaris
Anastasis Mouktaris has built a reputation for providing expert accountancy, taxation and business advisory services. He'll harness his expertise to turn your ideas into the words and numbers that scream commercial credibility – ensuring that your business plan hits the right note. "We believe that the practical approach that underpins our work is what sets us apart; we'll support our clients every step of the way, providing financial clarity and timely guidance to help achieve their goals."

Book a discovery call with Anastasis.
Adam Page
With 35 years' experience in finance, Adam Page has written countless business plans and built numerous financial models. He'll help you to simplify and understand your finances, giving you a far greater chance of raising funds and running a successful business.
"I think finance is your secret weapon; it's creative, and it's as much a part of the entrepreneurial armoury as great design, great engineering, and great marketing. I've coached many entrepreneurs, and I'll be happy to help you."
Book a discovery call with Adam.
---
If you're a business coach and want to promote your services to the small business community, you might want to consider becoming an adviser on Enterprise Nation.
Enterprise Nation has helped thousands of people start and grow their businesses. Led by founder, Emma Jones CBE, Enterprise Nation connects you to the resources and expertise to help you succeed.