BLOG
StepUp September: 30 days to change your mindset and your business - week four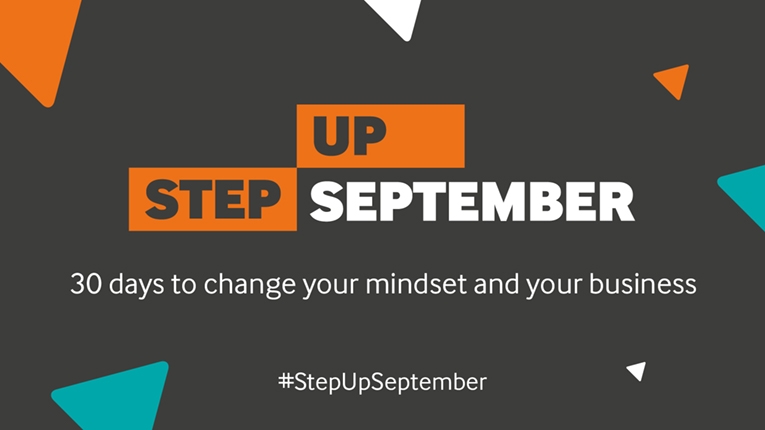 ---
Posted: Mon 21st Sep 2020
We're now in the fourth week of September and as part of our advice packed StepUp September campaign we've been sharing daily bitesize business lessons. Already this month, we have been challenging the community to get out of their comfort zone, pitch themselves to journalists, finding that perfect mentor - and much more!
The reason for this is because over the years, our research indicates that businesses which seek advice swiftly are performing better than those that bury their head in the sand.
All the advice that we have been featuring are contributions from the Enterprise Nation community. Big thanks to everyone for getting involved.
Catch-up on the first, second and third article and get involved in the conversation over on Twitter, Facebook and Instagram to share how you're getting on.
---
Monday 21 September
Tip of the day: Don't ever let anyone tell you "you can't"
Alice Stephenson is an entrepreneur, tech lawyer and angel investor passionate about inclusion and gender equality. Straight-talking, authentic and one of our most engaged-with Enterprise Nation adviser members.
Alice took to LinkedIn to share that she was told she couldn't go to law school with a 7 year old, be able to juggle being a single mum whilst being a lawyer or that she would never be able to start her own law firm.
But here she is, the founder of a successful law firm where individuality and diversity is not just celebrated, but encouraged. Kudos to you Alice!
Recommended resources:
---
Tuesday 22 September
Tip of the day: Positivity brings success!
Things often don't go as you plan, expect, anticipate or hope when you're running a business, but having a positive mindset can make a big difference.
Your mindset is the attitudes and beliefs that impact how successful your business will be. You need to invest time in building your self-belief and passion for your business if you're going to achieve your goals - and enjoy the journey along the way.
Tip provided by Chantal Pilon, founder of Chanii B shoes.
Recommended resources:
---
Wednesday 23 September
Tip of the day: Harness the power of the 20 minute burst
On those days you have to tackle the less exciting parts of your work (you know, that item that's been on the to do list for over a month), or when you're feeling like you've run out of steam, working in 20 minute intervals can be a game changer.
Focus entirely on a specific task with no distractions or interruptions - for 20 minutes. Then follow it with a brief break where you let your brain recharge. Before you know it, that thing you've been dreading is off your to-do list and you can go back to changing the world with your small business!
Tip provided by Hiba Binz, founder of Colomba Online.
Recommended resource:
---
Thursday 24 September
Tip of the day: Put the perfectionist to one side
Get your ideas out there and test the response! Finding a low-cost way to test your idea allows you to get feedback from customers, test your hypothesis and develop the idea quickly.
Tip provided by Sam and Diana, co-founders of Creative Jungle.
Recommended resources:
---
Friday 25 September
Tip of the day: Work with your local fellow businesses and customers
Partnerships can help businesses innovate, reach customers and create opportunities. For lots of small businesses, the market on their doorstep is the most important. They thrive by building relationships in their local community.
As the proverb says, 'if you want to go quickly, go alone. If you want to go far, go together'.
Tip provided by the team at Allbreeds Grooming.
Recommended resources:
---
**We hope these practical business tips will inspire you to take on new challenges and learn new skills this September.
If you have a business challenge that you'd like to recommend to the community, engage with us on social using the #StepUpSeptember hashtag and we'll be sure to share!
**
Head of Marketing at Enterprise Nation. I specialise in community growth and engagement - email and content marketing - social media strategy - and building collaborative partnerships. What do I love doing? Connecting with start-ups and small businesses and shining a spotlight on them.