BLOG
Make friends with customers on social media with a 'smile'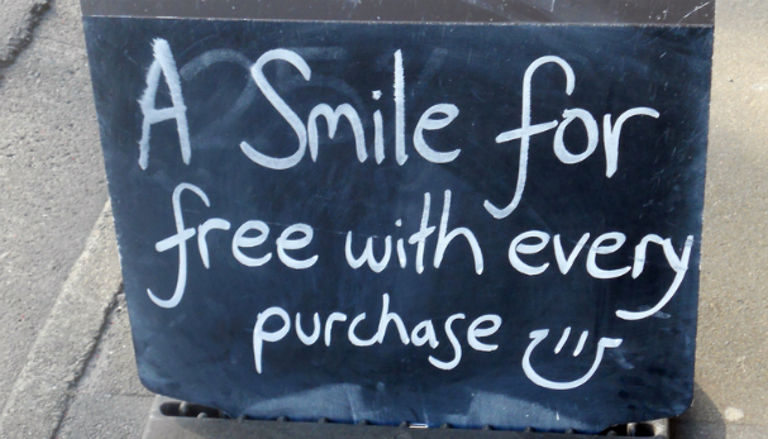 ---
Posted: Mon 14th Oct 2013
Do you consider your prospective customers to be your friends? Ok, you're probably thinking that's a trick question. How can people you don't know be your friends? Well the thing is, your prospective customers do want to feel an emotional connection before they'll spend money with you.
Veronica Pullen (@VeronicaPullen) is the award-winning creator of the 8-Step Social Marketing Profits Blueprint, a social media columnist and mentor for the Cherie Blair Foundation. Find out more on Veronica's website.
So how does that work?
The answer is social media. Whether you use Twitter, Facebook, LinkedIn or any other platform to promote your business, you need to treat everyone you meet as if they are your best friend. Now I don't mean you turn up at their house one evening and park yourself on their sofa...that's stalking and you'll get into trouble! But what I do mean is that you give something of value to every single one of your social media connections. Firstly, you'll need to change your mindset from 'what can social media do for me' to 'what can I do for my social media connections'. My mantra for everything I post on social media is...
"Give people what they are asking for or hoping for"
You might want to write that down, as it is important you do get this right if you want to be successful on social media. It's not as hard as it sounds either. We know what your audience doesn't want:
They don't want a selling machine, someone who just keeps posting 'buy my stuff' type messages.

They don't want to be offended, so no potentially offensive humour.

They don't want to see swearing or have to read your drunken ramblings.
As a business owner, giving your audience what they don't want won't give you what you want - sales! However, if every time they connect with your business you smile...
Smile
S - Solve their problems. Offer your knowledge and insights and be helpful with no expectations of making a sale in return

M - Make them feel valued. Treat everyone you meet as if they are the most important person in your world at that moment

I - inform, educate and entertain with quality content. It could be your free eBook, sharing your knowledge, your blogs, articles from other websites or anything you feel adds value to their social media experience.

L - Listen and acknowledge. If you see a post from someone who has achieved something or you have enjoyed reading their blog...tell them. If they're having a bad day, empathise.

E - ENGAGE! Respond to people who comment on your posts or tweet you. Initiate conversations with new people - If you engage with six new people each day, at the end of the year 2,140 will know your business exists who don't right now. You haven't had to leave home to meet them either!
If you want more sales from social media, put the needs of your audience ahead of your own. Don't be someone who only broadcasts how wonderful you are (we take that as a given!) Go be the person with the big SMILE whose competitors don't get a look in.
Join Enterprise Nation... and you'll smile!
Join Enterprise Nation for just £20 per year and get everything you need to start and grow your own business - including:
We also act as your campaigning voice, representing real, small businesses at the heart of government Join now
Enterprise Nation has helped thousands of people start and grow their businesses. Led by founder, Emma Jones CBE, Enterprise Nation connects you to the resources and expertise to help you succeed.