BLOG
Infographic: 'Silver start-ups' on the rise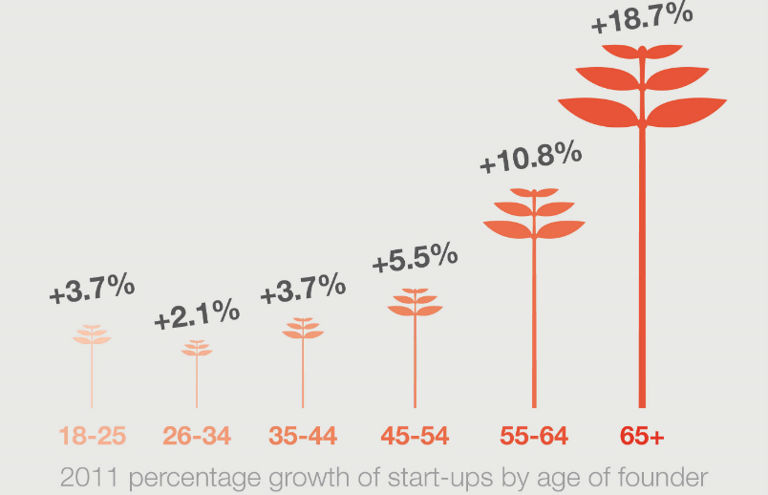 ---
Posted: Thu 9th Feb 2012
We're becoming big fans of infographics here at Enterprise Nation. This lovely one from Simply Business illustrates start-up trends for 2011, according to the number of people who have requested insurance quotes.
There's plenty of good news - the number of new businesses is up (as we've previously reported); there's more activity in the regions outside London and we're seeing a growth in the number of professional service businesses, such as health, law and finance. Unfortunately, there's a corresponding decline in creative businesses and construction. Perhaps the best news, though, is that more and more over-55s are taking the plunge and starting a business. The 25-34 year old age group still accounts for the highest number of start-ups, but the greatest growth is among 'silver start-ups'. In 2011, there was a 19 per cent increase in the number of over-65s starting a business and an 11 per cent increase in the number of entrepreneurs between 55 and 64.Over-55s now account for six per cent of all start-ups. Says Simply Business chief exec Jason Stockwood: "With ever increasing life expectancy and more flexibility around retirement, it's interesting that those in the 60 plus age bracket are considering a second career as an entrepreneur. Starting a business can be hugely rewarding at any age and those with so much experience behind them are in a fantastic position to make it a success." Hear hear!
Enterprise Nation has helped thousands of people start and grow their businesses. Led by founder, Emma Jones CBE, Enterprise Nation connects you to the resources and expertise to help you succeed.