BLOG
Enterprise Nation members: What support were YOU looking for in November 2022?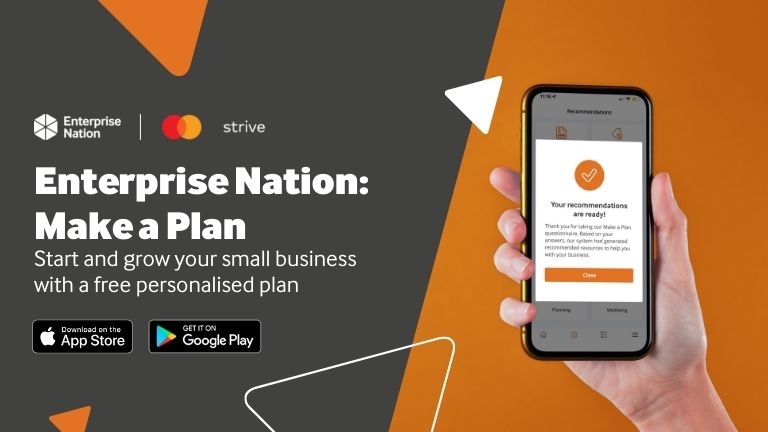 ---
Posted: Thu 1st Dec 2022
Since launching in 2021, Strive and Enterprise Nation's Make a Plan tool has welcomed thousands of small businesses, or prospective small businesses, through its doors, connecting entrepreneurs to experts and tailoring for them a bespoke action plan full of recommendations to help accelerate growth.
With so much support on offer, what areas are Enterprise Nation members particularly interested in?
Fortunately, we've done the hard work and crunched the numbers. So, what is the current makeup of Enterprise Nation's small business community? And how can the wealth of advisers on the platform meet these needs?
Download the Make a Plan app today.
Demographics
Of all Make a Plan users, 42% are looking for pre-start resources, compared to 30% in the start phase and 28% in the grow phase, with female entrepreneurs comprising 60%, 63% and 62% respectively of the categories above.
With so many individuals looking for early-stage support, there hasn't been a better time for advisers on Enterprise Nation to tailor their content or services towards this area – while continuing to provide advice and excellence to the 28% in the grow phase.
The content upload feature for advisers can be found here, where you can submit your brilliant content and continue to delight those who need it most.
Areas of support
Enterprise Nation members run businesses representing every sector under the sun, but what are the three most popular?
Wellness

Business services

Food and drink
In terms of the top business categories of those signing up to Make a Plan, we have:
Accounting & finance remains a large pillar of consideration for entrepreneurs, and it's encouraging to see that 78% of grow businesses have established, or are establishing, a financial reporting routine.
When it comes to sales, 48% of start businesses are not regularly selling products outside of their network, making Enterprise Nation's bank of content on expanding sales breadth particularly useful.
Moving onto marketing, and 64% of businesses at the start stage have now developed a marketing strategy, or are working towards one, which is a +5ppt increase on last month.
Elsewhere, just 33% of pre-start business owners are set up to pay themselves, while a whopping 65% of start and grow SMEs haven't protected the intellectual property in their business, which suggests Enterprise Nation's legal advisers could be in high demand.
---
If you are an adviser on Enterprise Nation hoping to address the concerns and wishes of business owners across the platform, these figures should give a strong indication of the areas to target with first-class content and services.
Sign up to become an adviser today.
Strive: Make a Plan is a free tool that will provide you with guidance, tools and personalised mentoring – you can get involved here.
Enterprise Nation has helped thousands of people start and grow their businesses. Led by founder, Emma Jones CBE, Enterprise Nation connects you to the resources and expertise to help you succeed.